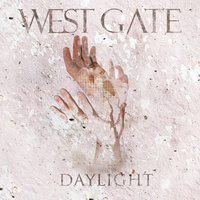 Coming off their 2008 EP, Selah, which sold over 1,000 copies, West Gate is looking high to skies with their new release, Daylight.   It is also worth noting that Selah was produced by Grammy Award Winner, John Seymour whose impressive resume includes work with U2, Santana, Dave Matthews and many others.   West Gate hope to keep the success rolling with their new record, Daylight, as they shoot for the stars and hope to capture the hearts of millions.  
This NJ-based rock band is made up of five members:   Peter Kelly on vocals, Kurt Andrews on guitar, Alex Goldenthal on guitar, Robert Struck on bass and George Roskos on drums.   This group of five is making sure that straight rock is alive and well in Jersey as they attempt to bring it to the forefront.   West Gate is taking the world by storm with their newest album merely for the fact that it just simply rocks hard.   This CD will simply hit every rock bone in your body.  
Besides the complete sound of the new record sounding very hard-rock, there were also elements of finely sang vocals by Kelly.   West Gate has been dubbed as melodic hard rock and I can definitely hear why.   Heavy-rockin' jams with shredding guitar solos, hard-hitting drums, and tough bass lines gelled together with a finely tuned voice.   These Jersey boys are proving that hard rock music doesn't just have to be balls-to-the-wall-in-your-face-mayhem.   They're showing us that you can bang your head while also enjoying some nice melodies.   Enter the new age of Daylight brought to you by West Gate.
The record starts up with raw-edged guitar playing, a powerful driving force behind the drums with a tough bass line and melodic vocals.   The total package is one that can best be described as a:   a thrill ride full of emotionally-driven turns and action-packed surprises.   This really fits the bill for the entire album as West Gate bring the goods.   The high energy factor is in full effect, which adds into their electrifying live shows that have gained much recognition.
I heard some really cool drumming echo effects on tracks nine & ten, "Alive Again & With Time".   These five musicians even covered a hit by Seal, "Kiss From a Rose", which I thought was an incredibly, well-done version.   The complete band sound comes across as highly rich & well-textured throughout the record.   I just love this heavy, melodic noise that Daylight poured into my ear drums.   I was rockin' out hard in my condo while movin' my head up and down to the sounds of Jersey's own West Gate.   This was music to my ears, no pun intended, and hopefully will be music to your ears as well.
For more on West Gate and their latest rock-solid release, Daylight, SKOPE out www.westgateband.com.  
Aug 11 2009 9:00P
Mojo 13 Claymont, Delaware
Aug 12 2009 9:00P
Outback Lodge Charlottesville, Virginia
Aug 13 2009 8:00P
The Black Flower Raleigh, North Carolina
Aug 14 2009 9:00P
The Rock Shop Fayetteville, North Carolina
Aug 15 2009 6:00P
Luna Bean Wilson, North Carolina
Aug 16 2009 10:00P
Pirate's Den Greenville, North Carolina
Aug 17 2009 9:00P
Springwater Nashville, Tennessee
Aug 18 2009 8:00P
Smithe's Old Bar Atlanta, Georgia
Aug 19 2009 8:30P
Uncle Pleasant's Louisville, Kentucky
Aug 20 2009 7:00P
Birdy's Bar and Grill Indianapolis, Indiana
Aug 21 2009 9:00P
Avenue Inn Frankfurt, Indiana
Aug 22 2009 9:00P
The Elbo Room Chicago, Illinois
Aug 25 2009 8:00P
Dirty Jack's Cincinatti, Ohio
Aug 27 2009 7:00P
The Smiling Moose Pittsburgh, Pennsylvania
Aug 29 2009 8:00P
Dr. Watsons Pub Philadelphia, Pennsylvania
 
Review By: Jimmy Rae
[Rating: 4/5]