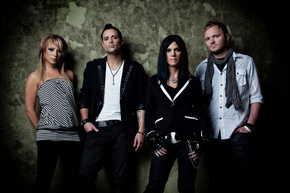 Grammy-nominated alternative outfit, SKILLET, prepare to release AWAKE, the follow up to their 2006 breakthrough project, Comatose.
The band, John Cooper (singer/bassist), Korey Cooper (keyboardist/vocalist), Ben Kasica (guitarist), and Jen Ledger (dummer/vocaist) teamed up with all-star producer Howard Benson (Daughtry, My Chemical Romance, The All-American Rejects), to deliver an album that is sure to have plenty of anthems, smash singles, and concert sing-a-longs.
"Monster," the first single off the upcoming album, is loaded with towering riffs and unbridled rock n' roll abandon. The band is scheduled to play a couple festivals around the US before joining the Alive & Awake Tour which will kick off in late September and run through November.
"Monster" Streams – WINDOWS:
iTunes Buy Link for "Monster":