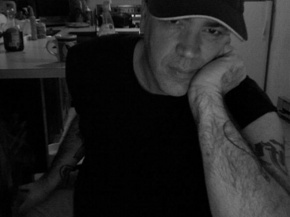 Rob Carlton grew up on Long Island in New York where he was surrounded by many musicians who would rent rooms in his parents' 16th century home. Rob was first introduced to guitar and songwriting at the early age of 12, receiving some of his first lessons from one of the boarding musicians.
It turns out the boarding house arrangement played in Rob's favor, giving him the chance to meet guitar players and songwriters who worked with The Beach Boys and Alice Cooper as well as local artists such as John Gatto of The Good Rats, Mark Hitt of Rat Race Choir, and Chris Cardbury who toured with Buzzy Linhart, just to name a few. Rob was inspired enough by all of these influences to play his guitar all night long while his parents slept soundly.
Rob was in several bands as a teenager. His first album, entitled "Going All The Way" was recorded and produced by Kewall Records in New York. It was released on SoundScape Long Island which featured the best local New York artists. "Going All The Way" was a college radio hit and became the theme song for a cable T.V. show hosted by Rose Somma on Long Island.
Rob has worked on songs with John "The Cat" Gatto and other prominent musicians and progressively worked his way into the New York music scene. At this time, he formed the group Empyre, which would later bring a lot of attention to Rob. Shortly thereafter, Rob joined ASCAP (The American Society of Composers, Authors and Publishers). Rob recorded 3 albums with Empyre and opened for and toured with Cinderella, Zebra, Blue Oyster Cult, and played the tri-state area as well with many bands. One fond memory Rob recalls is meeting at a club where his band opened for Ray Gillen and Rondanelli, who toured with Jake E. Lee of Ozzy fame. Rob recalls, "Ray said some kind words to me. I'll never forget that. It drives me today to still rock!"
Empyre's first album was recorded at Foghats studio in Port Jefferson, New York. The band enlisted the help of 2 additional guitarists: metal king Jack Star of Virgin Steele and Steve Price from Thor. Rob wrote songs with his fellow band mates Mike Digeronimo, a friend of Richie Blackmore of Deep Purple (drums) and Dave Merkernon (vocals) and did some of his guitar work on the neve board at Foghats Studio, the same neve board on which John Lennon's album "Double Fantasy" was recorded. The CD was released to the world on a Dutch East Indies label and received airplay and a lot of press in Europe and Japan.
Simultaneously, Rob started working with Bill of Conklin Guitars, appearing in Guitar World ads and other national magazines such as Circus, Burn (Japan), and Kerrang! (England). Rob also had endorsements at that time with Dangellico Strings, appeared with Ted Nugent among others in Circus Magazine, and had an article written about him in a Guitar World Magazine for which he became a hometown hero.
Rob Carlton "Unshackled" MP3:
Empyre's success brought another legendary performing artist into Rob's life: Joe Bouchard of Blue Oyster Cult who produced the band's second CD, "No More Running Away." As well as having the CD produced by Joe, Rob recently opened up with Joe and his band the X-Brothers at the Sherman Theatre in Stroudsburg, PA.
The final CD for Empyre was titled "I Want More After Empyre," which Rob most certainly got. He formed the band Sevenfold and toured America playing at large Christian festivals such as SuperFest and more as well as receiving attention from Phil Keaggy, who appeared on 2 of Rob's later CDs with Carlton & Paige, which can still be heard on various web sites on the internet.
It was after this milestone that Rob kicked off his solo career and recorded 3 additional records, the first of which was named "A Time Such As This," mastered by Ty Tabor of Kings X, followed by "Unshackled," and in 2009, "Beautiful Collision."
Rob has received many quotes from national magazines. 20th Century Guitar said that Jimi Hendrix is alive and well in Robert's music, and Rob was featured in Guitar Player Magazine recently which was a dream come true for him. He recently put together a new band and will release the new product to the world as soon as possible.
Rob is currently endorsed by Morley Pedals, GHS Strings, Spectraflex Cables, Rocktron Effects and recently signed a deal with HALO Guitars.
He hopes to do a national tour soon.   You can find some of Robs great sound on his myspace at www.myspace.com/robcarlton.  
Guitar: Rob Carlton
Bass/Vocals: Candi Santarsiero
Drums: George Lehan
By: Diana Olson – diolson05@yahoo.com