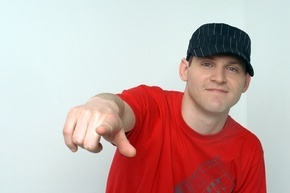 When it comes to rapping, Dann Furia AKA Skip-Dawg looks up to Run DMC and Edgar Allen Poe as his two biggest influences.   Two unlikely forces here, but one "sure-shot" of an album in We Will Rise.  
Hailing from Philly, this artist is bringing that real, city-style-swagger on the new record.   Skip offers a blend of hip-hop with pop and R&B elements.   The sound is hot 'n' fresh with some real catchy hooks such as "Skip To The Floor".   Making music "from the heart" that is motivational and inspirational is the whole premise of We Will Rise.   I had a chance to talk to this talented artist who has hurdled some major obstacles in his life.   I'd like to share with you Skip-Dawg's amazing journey through life & music.
Jimmy Rae: I saw that you've underwent five major lung surgeries due to a genetic condition. This, in turn, caused your lungs to collapse dozens of times.   Some huge obstacles for anybody to tackle, so then how were you able to persevere through it all?
Skip-Dawg: Wow, I see we are diving right into the heart of things : )
In terms of my music career, I really didn't want to be the guy who looked back and    wondered "if only I had been healthy, who knows what I could have accomplished…"   After the 5th and final surgery, I made up my mind that I would eventually return to music, even if it took a really long time, and that mentality allowed me the patience to get through a difficult physical rehabilitation.
Jimmy Rae: I noticed that you were a top college athlete at Princeton known as Dann Furia.   After college and after all the surgeries, how and why did you get involved with rapping?
Skip-Dawg: I wrote rap songs all my life, but the idea of becoming a rapper as a career did not occur to me until I was in college.   My experiences in college made me realize I could accomplish a lot more than I thought, and that confidence helped me turn a passion for music into a career.
Jimmy Rae: The new album definitely offers some hot beats, thanks in part to Interscope Records' mega producer, Beatgods.   He was the executive producer on this record, but I have to ask how you initially came into contact with Beatgods?
[youtube e4zpLnly_Os nolink]
Skip-Dawg: I met Mike (aka Beatgods) under a remarkable set of circumstances.   He happened to be in the audience at one of my shows and he liked my performance.   The show was actually the first time I had performed in over two years due to the aforementioned recovery from major lung surgery.   I actually recently wrote a story about the night I met Beatgods here (www.dannfuria.com/july27) because the full circumstances surrounding the night were pretty amazing.
Jimmy Rae: I read that Brendan Hansen was a former teammate of yours.   This World Record holder and Olympic Gold Medalist in swimming definitely came off an exciting run at the 2008 Beijing Olympic Games.   What was going through your head when Hansen, Michael Phelps, Jason Lezak and Aaron Piersol were setting these amazing records and making magic in the water?
Skip-Dawg: Every time one of those guys swims they make history.   I've seen Brendan swim in races since we were young, and even back then it was great to watch him because you could tell there was something special about him even as a kid.   To see those guys win the medley relay and break the World Record at both the Athens and Beijing Olympics was a highlight for me.
Jimmy Rae: The title track of your album, "We Will Rise", is actually written solely by you as a tribute to your friend and former teammate, Brendan Hansen.   What was that feeling like being able to write a tribute song coming straight from your heart?  
Skip-Dawg: I had wanted to make a song for Brendan for years because even long before he became an Olympic swimmer, he was an inspiration to everyone who knew him.   The song definitely came from the heart and I think that's always the best way to write a song.
Jimmy Rae: The video to "We Will Rise" has also been getting a huge response online–do you feel the video adds more charisma to the song?   The visual of Hansen in his natural element of water mixed with your dedicated approach at the mic seemed to be a special combo–do you agree?
Skip-Dawg: Yeah it was a great combo and the more we spliced in footage of Brendan swimming, the cooler the video became.   We actually went to Brendan's old pool "Karakung Swim Club" to film the pool scenes.   I wanted to rap underwater, but we didn't quite have the budget for underwater filming.   I think it's also funny just to see a swimming / rapping music video.   You don't see that every day.
Jimmy Rae: Have you always been interested in rapping?
Skip-Dawg: Yes.   I always say Run DMC and Edgar Allen Poe are probably the two biggest influences on my becoming a rapper.   I used to write dark and twisted poems because of Poe, and inevitably the poems would evolve into twisted rap songs.   Luckily once I grew up my songs became less twisted and more, well, normal.
Jimmy Rae: Do you consider yourself and this new record to be old-school or new-school or maybe a little bit of both?
Skip-Dawg: I describe my style as pop and RnB influenced hip-hop album.   Some of the RnB components of my songs mix in old-school vibes, but everything else from the raps to the production is 100% new school.
Jimmy Rae: Would you call this album a Motivational Rap Album in the words of Skip-Dawg?  
Skip-Dawg: Absolutely.   I didn't set out to make it that way, but song by song as we put the album together, everything on my mind seemed to revolve around the ridiculous and long recovery I had recently been through.   That theme played out well throughout the album and eventually "We Will Rise" seemed like the perfect title for the project as a whole.
Jimmy Rae: When coming up with lines to rap to, what goes on during this thinking process?
Skip-Dawg: As I mentioned earlier, I think the best songs come "from the heart".   In other words when a topic on your mind inspires you to start telling a story and it compels you so much that the story begins to write itself without you even thinking, that is the best situation.
Jimmy Rae: Who are some people that you look up to for inspiration?  
Skip-Dawg: My favorite people are those who have been successful in a mainstream or commercial forum without following conventional rules.   In other words, artists like Seal or Lupe Fiasco, writers like David Sedaris, even politicians like Obama — people who have been successful in spite of the fact that they don't fit the expected mold.  
Jimmy Rae: What's Skip-Dawg up to when not rapping?   Other interests, hobbies, activities etc..?
Skip-Dawg: I love to write – stories, memoirs, blogs — you can check out my work here: www.dannfuria.com. I  also tutor high school students for SAT prep and high school math & science.
Jimmy Rae: I saw that you starred in a national commercial for Windstream Communications and featured as one of Philadelphia's "Hottest Singles in the Suburbs" by Main Line Today Magazine.   What's that like?   Not a bad title to live up to–huh?   Lol
Skip-Dawg: The magazine appearance was fun and the students I tutor made a lot of fun of me for that one when they found out.   The Windstream commercial was amazing.   Windstream made a theme song and legit music video for their company.   The video shoot was the real deal and we were treated like stars, which is a treat for an indie artist to get a glimpse of what it's like to be a high roller.
Jimmy Rae: What's your favorite song on the album and why?   I really liked "Skip to the floor" a lot–hot joint!
Skip-Dawg: Thanks!   "Skip To The Floor" is the most fun song on the album and "That High" is the most gut-wrenching track I've ever written — those two are my favorite songs.
Jimmy Rae: Being from Philly, you follow any of the sports teams there?
Skip-Dawg: I only follow them when they are good.   So right now I follow the Phillies.
Jimmy Rae: And what makes those Philly Cheesesteaks so damn good? What's their secret man?
Skip-Dawg: Shoooot I am not a cheesesteak guy.   I do love Philly soft pretzels though!   Soft pretzels and Rita's Water Ice is a winning combination and the secret to my success.
Jimmy Rae: Also fitting that you live in Philadelphia where the filming of Rocky took place.   Have you ever scaled those famous stairs at the Philadelphia Museum of Art in which Sylvester Stallone runs up during a famous scene in the movie?   If so, did you get any sense of accomplishment when you reached the top–lol?   Since you're new record seems to be so inspirational, I figured it would be fitting to ask this question.  
Skip-Dawg: I have sprinted up the stairs, but by the time I got to the top I was too exhausted and sick to feel any sense of accomplishment!   Seriously, those steps go on forever.
"Skip To The Floor" MP3:
Jimmy Rae: What's next for Skip-Dawg and company?
Skip-Dawg: Skip-Dawg wants to take over the world of music licensing.   I've started licensing my songs to a lot of projects (indie films, a facebook application, a hip-hop documentary, etc.).   In the meantime it would be nice if a record label snatched me up so I don't have to record my next album in the studio I built in my closet.   But I'll do what I need to do.
For more on Dann Furia AKA Skip-Dawg and his new album We Will Rise, SKOPE out www.skip-dawg.com and www.dannfuria.com.  
By Jimmy Rae