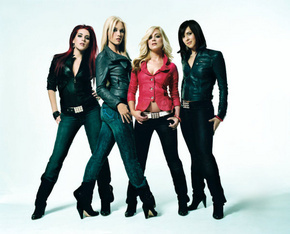 Last Thursday night the Skope TV crew ventured out to Bristol Studios in Boston, MA to interview & chill with Motown/Universal new group, JADA. Skope has covered JADA twice before but that was before their major label deal.
To say that we were excited to see what JADA was up to now was an understatement. In April of this year they released their first single, "American Cowboy." This single was recorded at Bristol Studios with producer, RedOne.
"American Cowboy":
[myspace 56617818 nolink]
It is always amazing to see a group that you knew back then and to then see that same group living their dreams. The four woman that make up JADA are April, Lauren, Jacyn, & Elle, and they all sacrificed to get where they are today. The ladies have been working with super producers from JR Rotem, Wyclef, Danja, all in preparation for the new album coming this fall. We also want to shout our gracious host, Laura Poulin who is the visionary manager that has taken this group from an idea to reality. Laura & Ric Poulin are the driving forces behind JADA & Bristol Studios.
Join Skope TV as we talk with JADA in person all about hard work, dating & going out, getting signed, and so much more.  
SKOPE TV INTERVIEWS JADA IN BOSTON, MA PT I
[youtube zIjN0jIDmSs nolink]
SKOPE TV INTERVIEWS JADA IN BOSTON, MA PT II
[youtube a9du41Ea3KQ nolink]