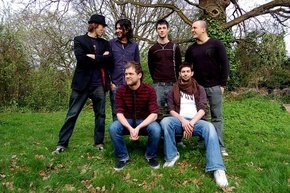 Brighton, UK sextet alternative-soul band Two Spot Gobi continues to make major headway under true independent status.
As the support band for Jason Mraz along his European tour dates, together they have performed in front of sold-out audiences from Portugal to London, while even rocking the Greek Theatres in S.D., L.A. and Berkeley. Now with worldwide digital distribution rights in place through MusiK1 for their freshman release "Everywhere You Should Have Been", which reached the "What's Hot" section of the iTunes home page this past April, the band's exposure is reaching new heights.
Two Spot Gobi Feat Jason Mraz "Let's Get Lost":
For a Skope Magazine exclusive, Two Spot Gobi is providing a FREE MUSIC DOWNLOAD Offer of their Live Performance of "Let's Get Lost" which features Jason Mraz singing with the Gobies, while kickin' a freestyle at the end of the track. Anyone who enjoys Alternative-Soul should grab while its available.