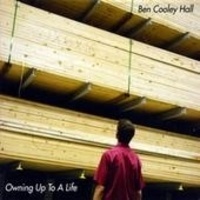 Mellow tunes for the 21st Century = Owning Up To A Life.   Ben Cooley Hall brings you this decade's version of Woodstock, but with his own unique style.   The peace & love vibe is definitely evident on the record, but Hall mixes that vibe up with some of his very own rock, alternative, pop, folk and country sounds.   The ironic part is that some of the lyrics of the songs don't indicate peace & love at all.   So, the fact that Hall was able to make all of this work and have the final arrangement come together so nicely is a testament to his artistry.
Cooley Hall was a former member of the Boston-based trio, The Mary Reillys.   Hall has decided to go solo for now to better understand who he is as an artist & musician.   The true meaning behind the title of the album actually signifies a deeper understanding of his true self as a person.   Stepping up to the plate by taking responsibility for Cooley Hall's own actions in life sums it all up.   Hall also stresses to not just roll with the punches and do as everyone pleases.   Do as you please and not by the perception for which people perceive you to be.   Powerful message just from the title alone, I must admit.
This singer/songwriter provides the vocals, guitars and violin while Michael Poorman takes care of the drums on this record.   You also hear horns, piano and strings, which gives more of a richer, orchestrated type sound.   The entire production is quite different due to Hall's new age twist on the music.  
The album features an array of elements such as: wonderful pitch & harmony on "Dream Excerpt #3 (Better Way)", nice guitar solo & guitar melody on tracks four ("Come To Care") and 11 ("Lot More Coming"), cool, little piano medley on track two ("Sunny Day") and a heavily emphasized, rockin' drum beat on the final track 11.   The three "Dream Excerpts" on the album I simply loved because they were short, but very sweet.   These three short numbers seem to offer a good feel toward the listener while proving to be bright, shining staples on the record.   I have to say that song six ("Ginger Ale") was so   catchy that it had me singing the tag line "Won't you be my Ginger Ale" over and over.  
One concept I could not figure it all the way is simply Cooley Hall's voice to the laid-back tunes.   At times, Hall's vocals were a perfect mix to the style of song but then other times it wasn't as convincing to me.   Voice-song-style just didn't match up at times, but at times it was spot on.   Hard to read at first listen, but maybe a couple more times and I'll have Ben Cooley Hall's Owning Up To A Life all figured out.  
For more on this solo artist and his latest release, SKOPE out www.bencooleyhall.com
By Jimmy Rae
[Rating: 3.5/5]