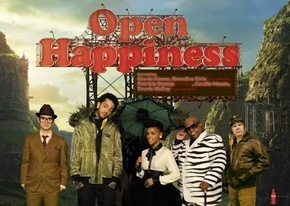 Check out some behind-the-scenes vignettes from the video shoot for "Open Happiness," the track recorded by Cee-Lo Green, Fall Out Boy's Patrick Stump, Brendan Urie from Panic at the Disco, Travis McCoy from Gym Class Heroes, and Janelle Monae.
"Open Happiness" Music Video:
Directed by Alan Ferguson, the video will premiere this THURSDAY MORNING (JULY 16) on MTV. The song, produced by Butch Walker (who co-wrote the song with Cee-Lo Green) and Polow Da Don, has been featured in Coca-Cola's "Happiness Factory" commercials.
JANELLE MONAE AS JANE PRESTIGE:
PATRICK STUMP AND HIS THOUGHTS ON ORANGES:
BRENDAN URIE AS THE REPORTER:
TRAVIS MCCOY JUMPING ROPE:
CEE-LO AND THE REAL ZEBRA:
THE MAGIC OF THE GREEN SCREEN: