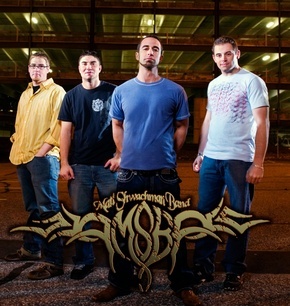 Matt Shwachman and his band are back for another live show with Skope Live! Not only did Matt agree to play the show but he also played a major role in producing this awesome night. MSB reside in Worcester but they are making fans all over New England. Come see what the buzz is about The Matt Shwachman Band!
Skope: How did you decide that you wanted to play the 2009 Skope Live! Summer Bash?
The Matt Shwachman Band: We met Skope's CEO/Publisher Mike Freidman at 2008 Skope Live! Bash at Bill's Bar in Boston when MSB was selected to perform. We instantly became friends and agreed that we wanted to organize an even larger event for 2009, so here we are.
Skope: Playing in a legendary club like Copperfield's must be cool.   How do you prepare for that to give the best show possible?
The Matt Shwachman Band: Copperfield's is a great Boston bar. We generally prepare a set list which we often deviate from and end up playing to the feel of the crowd. We actually learned a valuable lesson at our last Copperfield gig; that you have to be careful and not let crazed fans hop on stage. Mike's guitar amp was assaulted and he is still unhappy about it to this day!
Skope: The lineup for the show is sure to rock the crowd. Are you familiar with the other bands and anyone in particular you are excited to watch?
The Matt Shwachman Band: We hand picked the line-up with Mike and we know that each of these artists deliver in their own right and put on an amazing show. We know that the audience in attendance will be in for a real treat no matter who they are there to see, and will want to stay for the entire evening.  
Skope: In this day and age of Myspace & Youtube what methods have you found to be most effective to make sure your fans & friends all make it out?
The Matt Shwachman Band: We do all of the Facebook and Myspace stuff, but the best method always seems to be reaching out to fans and friends on a more personal level whether a text, an email or phone call.
Matt Shwachman – See Through
[youtube LX7UcKSM-v8 nolink]
Skope: What do you have going on that you will be promoting the night of the show?
The Matt Shwachman Band: We have tons of New England tour dates throughout the end of the summer and well into the fall. We also have a new album we are working on, so you might get a little bit of info on that.
Skope: What is your favorite part of the night when you get to play live?
The Matt Shwachman Band: We love getting the dance floor moving. When the floor is hopping, our energy on stage goes to the next level.
Skope: Part of the proceeds from the night go to Jimmy Fund. What does that mean to you & does that make the show a bit more meaningful to you?
The Matt Shwachman Band: We wanted part of the proceeds to go to a charity that everyone could feel strongly about. Most of us know someone who has cancer or who has battled it. We feel it is important to give back and everyone who comes out to the show can feel good knowing that part of the proceeds will be going to the Jimmy Fund to help fight the battle against cancer.
Skope: What ritual do you have to get yourself ready to go on and perform live?
The Matt Shwachman Band: High fives, fist pumping, and some light shoving.
Skope: What can people expect from seeing you live and do you have any tricks up your sleeve for that night?
The Matt Shwachman Band: People can expect us to showcase more of our original material on the evening. They can expect a high energy set from start to finish. There could be a song from the new album mixed in there and I would count Mikey out from breaking out the talk box, which is always a crowd pleaser.
Skope: Nommatter what happens to sales of recorded music, the live show will always be in demand. How much does your live show play into your bands overall musical portfolio?
The Matt Shwachman Band: Our live show presently is the heart of our band, and it plays into everything we do.
Skope: Music lost a legend when Michael Jackson passed away in June 2009. What can you take away from his amazing live show that you can use in your own way?
The Matt Shwachman Band: When you think about it, MJ touched more people in the world through his music, probably more so than any other artist in history. If you look at his lyrics, they were almost always on the positive side of the spectrum, which is something we strive for as a band. He was a great live performer in his prime and electrified audiences all over the globe. We often have covered MJ and there is always a chance we could break out with a little something on July 17th.
Skope: With such a stellar lineup for the show does that add pressure to bring your top performance and how much pressure do you place on yourself?
The Matt Shwachman Band: Again, we hand picked the line up because we know how great each of these artists are. We are proud to be performing amongst them and are excited they wanted to be a part of the evening. We always bring our A game and try to leave everything on the stage.
Skope: Please let readers know all about what they can look forward to from you beyond the show on 7/17/09?
The Matt Shwachman Band: As you know, MSB will be hitting the pavement hard as usual with many tour dates throughout New England. As mentioned, a new record is in the works, tentatively titled "Are You Prepared" due in late 2009 or early 2010. It is a much more upbeat and aggressive record than many might be expecting from us, and we cant wait for it to hit the streets.
www.myspace.com/mattshwachman
www.mattshwachman.com