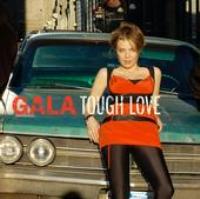 Italian-born singer/songwriter, Gala, brings her version of Tough Love to you.   Gala Rizzatto is now based in Brooklyn and offers up a mixture of world music, rock, pop, dance and even hip-hop elements.   The record is highly eclectic in taste with a bite of the Big Apple and Gala in each song. The album is representing ALL of the people of NYC and holds a special place in Gala's own heart as well.   The record's special quality is all of its flourishing diversity.  
Tough Love really matches up to that "New York State of Mind" or New York attitude/swagger if you will.   Gala brings you an edgy and hip piece of work that she likes to call "intelligent pop".   Adding a little sass to the picture to spice things up, this platinum selling international music star seems to have hit Tough Love right on the nose.
The six-track EP includes a wide variety of music that seems to have something for everyone.   Dance music for all you clubbers, world music for all you worldly people, rock music for all you rockers, hip-hop for all you hip-hoppers and pop for all you pop tarts.   No limits and no boundaries when it comes to making music is Gala's promise.  
The opening song, DKOL (Different Kind of Love)", has a sweet guitar riff along with a zesty/edgy pop rock approach thanks to Gala's Rock'em Sock'em chops.   This is a joint you can dance your ass off to at the club or simply rock out to.   "Faraway" has a distinct worldly vibe about it whereas "I'm The World" displays a hot 'n' fresh beat where you actually hear an accordion.   The title track, "Tough Love", has Gala belting out lyrics in a sort of cutesy type manner because of an infectious, high pitched squeak.   She definitely is adding a whole lot of pep and pop to her step.   In the end, it's a major load of pizzazz!
I can't leave without mentioning the fine musicians that make up Gala's band: Deantoni Parks on drums, Itamar Ziegler on bass and Joseph Friedman on guitars.   Gala's Tough Love seems to be no joke here.   For more on Gala and her latest EP, Tough Love, SKOPE out www.galasound.com.  
By Jimmy Rae
[Rating: 3.5/5]