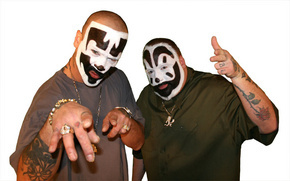 Insane Clown Posse, the Detroit duo of Violent J and Shaggy 2 Dope, are readying their tenth full-length release Bang! Pow! Boom!
Already multiple times platinum with albums The Great Milenko and The Amazing Jeckel Brothers now the underground duo is back and poised to strike again. The group's dark visions and Barnum minds have spawned a carnival of music and mayhem often scorned by mainstream media, but embraced by an entire sub-culture of like minded-individuals.
Whether a long time fan or new to the ride, go "Behind The Hatchet" with a short video look at one of the most successful underground bands in the world. And, for a taste of Bang! Pow! Boom!, which hits stores September 1, check out the freshly unveiled audio album sampler.
BEHIND THE HATCHET VIDEO LINK:
[youtube H1iYTIKMCjk nolink]
ALBUM AUDIO SAMPLER: