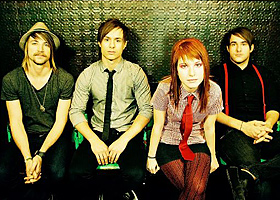 The pop-punk rockers from Tennessee are currently opening up for the comeback tour of No Dobut, and details of their new album have finally been released!
The third studio release, after their huge sophomore success, Riot!,  will be titled Brand New Eyes    and is scheduled to be released September 29. The lead single off the album is confirmed to be "Ignorance", and will be available July 7.
Check out the track listing for Brand New Eyes
1. Careful
2. Ignorance
3. Playing God
4. Brick by Boring Brick
5. Turn It Off
6. The Only Exception
7. Feeling Sorry
8. Looking Up
9. Where the Lines Overlap
10. Misguided Ghosts
11. All I Wanted
And don't forget to check out the cover,  SKOPE IT HERE.