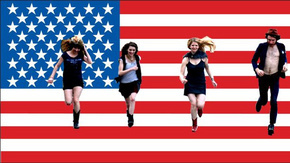 Those Darlins will soon be roaming this great nation, bringing all Americans together the only way we know how: sheer freak spectacle.  
But don't just come see the spectacle, be the spectacle. We want you. We dare you. We, in fact, need you.  
Have a drink, have a dance. Don't worry about the environment being intolerant, too cool, too lame, too country, too anything.   EVERYONE is invited; you're one of us.
It's Summer 2009, and, damnit, be here with us in the now. Don't let the economic downturn ruin your appetite for some basic human relief: a good time.
And, until then, enjoy Red Light Love and make a date with us to make this the best summer ever.
Red Light Love — MP3:
SUMMER TOUR DATES
6/25: Atlanta @ Drunken Unicorn
6/26: Athens, GA @ AthFest
6/27: Nashville, TN @ Mercy Lounge $
7/7: Arlington, VA @ Iota Club & Cafe
7/9: NYC @ Mercury Lounge +
7/10: Brooklyn @ Southpaw   **, ++
7/11: Philadelphia @ Johnny Brenda's
7/13: Pittsburgh @ Club Café
7/14: Cleveland @ Beach Land Tavern
7/15: Pontiac, MI @ The Pike Room
7/16: Indianapolis @ Radio Radio
7/17: Chicago @ Schubas
7/18: Minneapolis @ 7th St. Entry
7/20: Rock Island, IL @ Rock Island Brewing Company
7/21: Omaha, NE @ Slowdown Front Room
7/22: Des Moines, IA @ Vaudeville Mews
7/23: Kansas City, MO @ The Record Bar
7/24: St. Louis, MO @ Off Broadway
7/25: Memphis, TN @ Hi-Tone
9/18 & 19: Bristol, VA @ Bristol Roots & Reunion Festival
$   W/The Black Lips — VINYL RELEASE PARTY
+   W/Heavy Trash (Jon Spencer) CD RELEASE PARTY
** W/So So Glos BROOKLYN RELEASE PARTY
++ W/We Are Country Mice BROOKLYN RELEASE PARTY