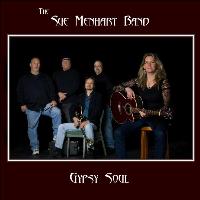 This record is so quick and punchy; seems it's over before it's even begun!   Not necessarily a bad approach for The Sue Menhart Band as they show a quick pace can actually work sometimes.   The end result is just a fun/rockin' EP that can relate to many people as well as offer a healthy outlet.
The SMB is made up of Sue Menhart as the lead singer/songwriter while also throwing in some guitar, her husband, Kevin Clark, on drums, Dave Foret on bass, John Jeff on lead guitar and Bill Quinn on the keys/guitar.   These musicians offer up a sound that is rockish yet bluesy with a slice of folky-pop.   The concept behind much of the album is to forget about the mundane/humdrum part of life for awhile and to just simply have fun with Gypsy Soul.   Even if it is just for a brief & punchy moment, these 9-5 rockers want you to break the monotony of time clocks/time sheets by getting a spoonful of SMB.  
One key element that I picked up on while listening to this 4-song set was Menhart's powerful vocals.   Menhart sings in a very gruff-style manner that gives her vocal performance a rough/rugged edge.   With all that harshness backed behind her pipes, she also digs deep and finds her soulful spirit.   The connection between Sue's rocker side and emotive side has significant relevance here.   The main message of having a good old time meets up with a caring person that wants to pour all these feelings onto you.   I totally get it!
One other stand-out quality of this EP was the equally impressive guitar playing skills of John Jeff.   Nothing to sneeze at by any means as this guy can really PLAY!   The guitar riffs and solos freakin' rocked my brain and made me understand why I love hearing a good guitar part in a song.   Jeff's guitar grinded together with Menhart's vocals and the rest of the band, which made for a quick but enjoyable listen.
The recording starts up with the title track, "Gypsy Soul", where you get the best of both worlds:   Jeff rockin' it out on guitar & Sue bringing that Gruff N' Tuff style to the microphone.   Next up is "Coming Home", which is an upbeat rock tune written for all the brave soldiers that serve this country every day.   "Why You Love Me" features a real snappy beat that is emphatically catchy.   The last track, "The Choice", is the most sentimental song on the album with Menhart giving off a wonderful display of emotion.   The song is dedicated to her husband and I must say sang quite beautifully.   Sue has such a quiet yet potent vocal delivery that really makes you stop and listen.  
For more on The Sue Menhart Band and their new release, Gypsy Soul, SKOPE out www.suemenhart.com.
By Jimmy Rae
[Rating: 3.5/5]