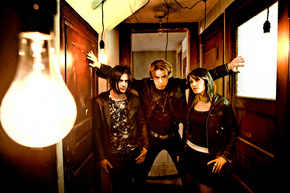 Australian trio Sick Puppies are gearing up to release Tri-Polar, their second major label album, and follow-up to Dressed Up As Life. Like their freshman release, new album, Tri-Polar will feature producer credits in Rock Mafia's Antonina Armato and Tim James.
"YOU'RE GOING DOWN" STREAMING LINK:
WWE Extreme Rules Intro ft. "You're Going Down":
Songs like the storming first single, "You're Going Down," which is being used as the theme song for the WWE's Extreme Rules pay-per-view broadcast, and "Street Fighter War," which was used as part of the national marketing campaign for the popular video game Street Fighter IV, distill all that energy into high-powered festival anthems.
Sick Puppies' Tri-Polar hits stores on July 14th.
Sick Puppies on Tour:
July 8 Glass House – Cromwell Pomona, CA
July 9 Jerry's Pizza & Pub – Bakersfield, CA
July 10 The Rock – Tucson, AZ
July 14 Sokol – Omaha, NE
July 15 Cain's Ballroom – Tulsa, OK
July 16 Diamond Ballroom – Oklahoma City, OK
July 17 House of Blues – Dallas, TX
July 18 House of Blues – Houston, TX
July 19 Highline Ballroom – New York, NY
July 19 Midnite Rodeo – Abilene, TX
July 21 Remington's – Springfield, MO
July 22 The Blue Note – Columbia, MO
July 23 House of Blues – Chicago, IL
July 24 The Rave – Milwaukee, WI
July 25 Piere's – Fort Wayne, IN
July 26 The Machine Shop – Flint, MI
July 28 The Crofoot – Pontiac, MI
July 29 The Intersection – Grand Rapids, MI
July 30 Headliners – Toledo, OH
August 1 The Altamont Fair – Sugar Altamont, NY
August 2 Chameleon Club – Lancaster, PA
August 4 Crocodile Rock – Allentown, PA
August 5 The Chance – Poughkeepsie, NY
August 6 Higher Ground – Burlington, VT
August 7 The Station – Portland, ME
August 8 New York State Fair – Syracuse, NY
August 12 The Note – West Chester, PA
August 13 Recher Theatre – Towson, MD
August 14 Hooligans – Way Jacksonville, NC
August 15 Amos' Southend – Charlotte, NC
August 18 Headliners – Columbia, SC
August 20 House of Blues / Orlando – Lake Buena Vista, FL
August 21 State Theater – St. Petersburg, FL
August 22 Respectable Street Cafe – West Palm Beach, FL
August 24 The Swamp – Fort Walton Beach, FL
August 25 Varsity Theatre – Baton Rouge, LA
August 27 62 Event Center – Fayetteville, AR