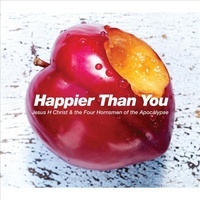 "Happier Than You" brings music out of it's usual passive attitude. With its earworm worthy infectious pop hooks, and lyrics that are mixed with brilliant spot-on social observations that are often poignant, and heart-felt.
             
With a voice like Sarah Silverman and music reminiscent of They Might Be Giants, Jonathan Richman, Nick Lowe, Beach Boys circa "15 Big Ones/ Love You" and home state hero Desmond Reed, Jesus H Christ and the Four Hornsmen of the Apocalypse are worth repeat listenings.
             
The members have both musical and literary credits, which include playing with   everyone from Prince to Elvis Costello. They have also worked with the Metropolitan Opera Orchestra, and have been under the direction of Leonard Bernstein.   The lead singer/co-songwriter Risa Mickenberg has not only written "Beauty Parlor Wisdom" and "Taxi Driver Wisdom", but she also has won a Pushcart Prize and writes for stage, film and television.
             
The songs on "Happier Than You" deal with small town alcoholics ("Alcoholics In My Town") an encounter on the Fung Wah Bus that leads to a posting on craigslist missed connections ("Julie On The Fung Wah Bus") Egosurfing ("Vanity Surfing") a simile slinging song about hopes and dreams   ("You've Gotta Have A Dream") and an ode to   crippling social anxiety ("Pathetic").
             
Do yourself a favor and go buy this album, or if you're like the person in "Pathetic" you can buy it online.
Review By: Shawn Alexander Roy
[Rating: 5/5]