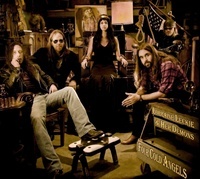 A native of Whitby, Ontario, Canada, Lorraine Leckie is a former world-renowned make-up artist who quit her day job and went on to make music. Since she was young, the music of Hank Williams and Canadian hero Neil Young have played a pivotal role in her life. Bound with her poems influenced by Jean Nicolas Arthur Rimbaud, Charles Baudelaire and Paul-Marie Verlaine, and coupled with the encouragement of friends and model co-workers she was convinced to pursue a career in music. Her beginnings as a poet are very evident of the soulful and elegant lyrical quality this album has.
             
Singing like Grace Slick, Lou Reed and Neil Young, she belts out toe-tapping tunes that are as heartfelt as they are captivating. On "Four Cold Angels" she brings together her "demons"   ( Buddy Cage (pedal steel) George Jackson (bass), Hugh Pool (electric guitar) and Paul Triff (drums)) and this group bring a whole new dimension to her music.   She has even   culled on the help of her friend Frederique Van der Wal who helped with the album's song arrangement and The Brian Jonestown Massacre singer-songwriter Anton Newcombe, whom sings a heart-wrenching cover of Ewan MaColl's "Dirty Old Town". (famously covered by The Pogues)
             
"Getaway Car" – A sonically out-of-place piano-driven song that starts off the album. Frederique Van der Wal made a great choice putting this first.   It's a love it or hate it kind-of song. "Ontario" – A heart-felt tribute to her home province. "Misfits" – Superbly written love song for the ages.
Review By: Shawn Alexander Roy
[Rating: 4/5]