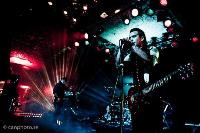 Desillusion is a 3-piece band made up of: Westin Halvorson on lead vocals & guitar, Jay Keller on bass and Galen Waling on drums.   These men pack one hell-of-a-freakin' punch, which is amazing considering there are only three members.   This Seattle-based industrial-metal group definitely does not personify your typical Seattle "Grunge" Rock band.   Desillusion brings an exotic & dark underground vibe along with a highly aggressive style.   Desillusion's latest EP is full of angst and rebellion for good reason, according to Halvorson.   Desillusion feels that the main concept behind Blasphaesthetic is simply "beautiful blasphemy–not so much in the religious sense as simply choosing to follow a mindset and path of their own, going against the grain and the majority belief".  
What you first witness on the cover of the disc is a small figure with a red Mohawk holding a knife in one hand and sticking his middle finger up in the air with the other.   What really took me back was what appeared to be an upside down, red cross on the upper torso.   With blasphemy being part of the title, meaning behind the album and with this visual display; I couldn't help but think that an attack on religion and God was quite relevant.   To help further this conclusion, during the opening track, "Blasphaesthetic" ironically enough, Westin sings a line stating that "Heaven is a place for the weak".   With all of that, I would have to say that heavy emphasis is on religious aspects.   I did hear the elements of going against the grain and majority belief, stated by Desillusion, but I can't help notice that religion and God seemed to be in the spotlight.   I have to say also that although I'm not one of those religious nuts or bible thumpers, I do try to attend church once a week and do consider myself one with God.   So, after witnessing this with my eyes and ears, I do have to say I'm absolutely offended for the obvious display of disrespect for God and everything that he and his followers represent.   With numerous relatives and loved ones on my side of the family along with my girlfriend's side passing away, this definitely bothers me and leaves a sour taste in my mouth.   I know that all of my deceased relatives as well as my girlfriend's are in a good place surrounded by nothing short of a strong sense of love, security and safeness.   Heaven is real, it does have a purpose, it does offer truth—you just have to stop, think and believe for your OWN self being first.  
The EP starts off with a mysterious tone, but quickly turns aggressive that can best be described as angst with attitude.   The next song, "Discontinued," offers up creepy-sounding electronic elements mixed with gothic metal that actually comes across as audibly appealing.   "Desperation" is just that with a scary-like presence thanks to Halvorson's unique vocal approach and the band's direction.   Fright Night for the Masses in an electro-rock-metal-modish'-kind-of-way is what Desillusion has here.   These three artists have the amped-up energy, power and force to make a big impact on the music world.   The dedication and drive is there and Desillusion fully believe in their music and its message.   Now, they are ready to pour it all onto the public.
For more on Desillusion and their latest EP, Blasphaesthetic, SKOPE out www.myspace.com/desillusion.
By Jimmy Rae
[Rating: 2/5]