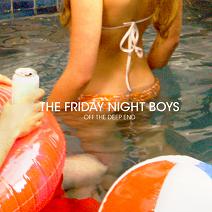 Starting parties with their pop and dance fused songs since 2006, The Friday Night Boys is made up of Andrew Goldstein(vocals), Robby Dallas Reider(bass), Mike Toohey(guitar), and Chris Barret(drums). Up until now, the four have been on a long and hard journey to where they are now, touring with popular acts such as All TIme Low and Mayday Parade.They've appeared on TRL, released two EPs, and are finally releasing their first full-length album, Off The Deep End. Can these "party-starters" own up the name, or just crash?
What is very obvious about Off The Deep End upon first listen is how radio-friendly the songs on the album sound, with songs like "Stupid Love Letter" and "Hollow". Those tracks and the majority of the album fuse both danceable electronic beats and vocal harmonies that venture far away from the punk side of this "pop-punk" band. The Boys have a sound that make them easily comparable to pop boy bands, such as that one Disney sweetheart band with the initials "JB". You know who, but even with a comparison that like, there is no reason The Friday Night Boys don't deserve a chance to prove they are NOT that type of band. If you are a fan of pop-punk and find comfort more in the pop side of the genre, then it will be no test to find yourself instantly hooked on to the album.
The leading track "Permanent Heartbreak" sounds like a would-be mopey starter to an album from a band expected to be "party-starters", goes against those expectations. As a given, being on Fueled By Ramen, it's no surprise to see songs with subjects like "heartbreak" be backed by a mix of bubble-gum pop and punk. Breathily uttering "Face down on the bathroom floor / Did you know you left me hanging out to dry?", frontman Andrew Goldstein sets up "Permanent Heartbreak" to not seem like a song you would definetly start your Summer party with, the song you want to bang your head to and sing loudly in your car with the windows down until things quickly transition into a bouncy, catchy, and energetic melody, and dashed with a piercing guitar solo.
Off The Deep End has its ups and very far downs. "Suicide Sunday" will most likely be come the quick favorite of those used to listening to typical pop-punk music, with a more punk feel to it and always-captivating "Na-na-na-na" sing-along. Suicide all of a sudden seems a bit less depressing. The ballads, "She's Finding Me Out" and "Can't Take That Away" are beautifully done, gentle, and will easily soothe listeners before the party returns on the album. However, it's after this point where the album starts losing its charm. "How I Met Your Mother" starts out with a very euro-pop intro and goes nowhere. Unfortunately, is a trend the final half of the album follows along with becoming less catchy, generic, and with a choruses that go "Molly, Molly, makeout!", just a little mediocre. In short, these songs will take a few more listens to get into.
In whole, Off The Deep End is nothing but a fun, catchy debut and came at the perfect time with Summer just around the corner.
Review by Norrel Blair
[Rating: 3/5]