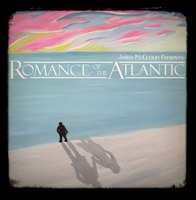 Jared McCloud's sophomore album, "Romance of the Atlantic," offers a look into his story — one of working towards stardom, as well as the difficult journey of a musician who has to hit the road and leave a loved one behind.
A combination of acoustic and light rock, this disc is smooth and soothing. In "Colors," McCloud seems to be directly talking to his audience in sing-song tone, making the listener feel a sense of personalization — "Colors ran from the pages, leaving words clear and blatant…well I had too much to drink, I can't think, I shouldn't say these things I know."  
After releasing his 2005 debut, "1717 Vine St.", McCloud hit the road and performed across various venues in Connecticut and New York City to promote it. Inspired by his own personal quest for the spotlight, "Romance of the Atlantic" was born.  
"St. Catherine's Anthem" is a song of homecoming as a result of hitting the stage. "I'm gonna see my name in lights & when the smoke clears I'll feel a little less foggy…I swear I'll make it there if I gotta crawl. I'm coming home."
The continual sincerity of a starving artist is felt throughout the CD. McCloud again mentions "seeing his name in lights" in "NYC Song" and saying yet another goodbye before hitting the road — "A kiss before leaving, I'll make something of this life before long…"
"Only a Reminder" is a song of escape–to get away from the world and just be truly alone to enjoy each other's company. "There's no way this plan is wise, but my full tank of gas and restless mood would argue otherwise…It's not like me to be impulsive but I don't know when I've ever felt more alive and terrified."
Jared McCloud's genuine feelings are reflected in "Romance of the Atlantic," and can be widely understood by any artist, or one that knows one, in the music industry. His innocence is refreshing, compared to others who enjoy solely the "perks" of the entertainment business (i.e. groupies and freebies).      
For more on McCloud, check out www.jaredmccloud.com
Author: Erika Y. Gradecki
[Rating: 3/5]