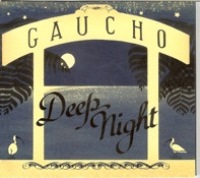 There are various feelings that are sprung from listening to Gaucho's "Deep Night," but one thing is for sure — it is music that definitely brings you to your feet.
 
A mixture of jazz with a twist of New Orleans swing, Gaucho is known as a "gypsy jazz sextet," with the members of the group bringing in more than two decades of eclectic musical experiences. The group, which comprises of Michael Groh and Dave Ricketts on guitars, Ari Munkres on standup bass, Rob Reich on accordion and piano, Ralph Carney on horns and Pete Devine on percussion and drums, gives ode to the 1930s sounds of Jean "Django" Reinhardt, who helped root gypsy jazz in France, and later spread to various parts of Europe, the U.S. and Canada.
 
The first track on the album, "Tea for Two," is classy and romantic, and gives the feeling of sailing away on a gondola in Italy.
 
On "Bossa Dorado," we're transported to Mexico at a spicy salsa club, where one can't help but peel away from the wall and be whisked off to the dance floor.
 
The cover song, "Deep Night," is smooth, yet dramatic. The 1930s gypsy jazz feel is definitely ingrained within this title track, and remains ever-present throughout the remainder of the album.
 
Overall, "Deep Night" is fun, catchy and very enjoyable. It's one of those "feel good" albums that lets you travel the world in your own living room. Each instrument is intricate and clear. No instrument is left unturned, and no one instrument overpowers or sets precedence above another. This is rather rare, especially when bands can time to time focus on percussion more than guitars, and vise versa. Ragtime and jazz guitarist Craig Ventresco even lends a hand on four songs on the CD, but blends in, rather than outshines the group.
 
Though the entire album is instrumental, words are not necessary. There is a divine sense of passion between each artist and their designated instrument. Deep emotion is truly rooted in "Deep Night" and worth a listen.
 
For more information or to hear music on Gaucho, visit: www.gauchojazz.com.
Author: Erika Y. Gradecki
[Rating: 4/5]