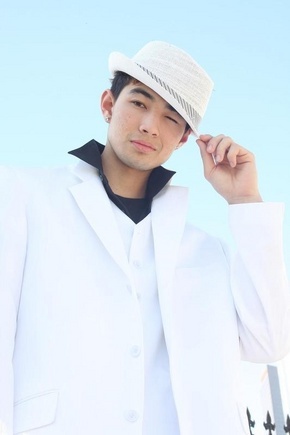 Alot of people talk a big game but when it comes times to show & prove it is another story. My next guest is fresh from Los Angeles, CA named Kid Kamakazi. Kid Kamakazi is young but he hustles like it's do or die. At first you think he is just an emcee but his music takes on various genres. I got hooked after hearing his joint, "Fly Like I" feat Mistah Fab. Now, Kid Kamakazi is releasing his new single "Clutch Shooter" via I Tunes and things are about to go down, so lets get into it!
Stoli: How did you get the alias Kid Kamakazi?
KID KAMAKAZI: I started rapping on the streets really fast and different people said, man your like bombing on people. When we rap against people and they would  say I'm kinda crazy and being Japanese and Italian they said Kid kamakazi sounds like you man. Like it's always something different never know to expect.
Stoli: At what age were you introduced to hip hop and when did you try emceeing on your own?
KID KAMAKAZI: When I was 5 I toured with my dad with alot of groups. I recently  have been rapping for about 2 year prior to this interview. I made the EP with 6 months recording experience.
Stoli: In hip hop it is all about keeping it real. How much of your real life tales come out in your lyrics?
KID KAMAKAZI: I say yes it is about keeping it real and telling real stories but I do believe music is evolving and alot of people are just going with the flow with how the beats are going. But me as a artist I love to rap real hip hop and get lyrical with it.   But I do love making club tracks too.
"Clutch Shooter"
[youtube NB7WUWbWs5o nolink]
Stoli: How did your parents react to your decision to puruse a career in hip hop?
KID KAMAKAZI:   My dad has always been in the field so he encourages me, my  mom is a different story, ha ha.
Stoli: You can rhyme but you also have a serious singing voice. How do you use that to your advantage when composing a track?
KID KAMAKAZI: I have always noticed my voice always stands out and it is different. It sounds like nothing you heard before. I get alot of we can't tell what race you are so it's very marketable. It's just me being me but whats funny is I can sing pretty darn good in person. I have the swag of a singer. My delivery is really good in singing and  I have been told by alot of people but I do not work on it. Maybe in the future I will be doing so, maybe have some artist like Jagged Edge and Neyo teach me a few things, ha ha.
Stoli: You hooked up with Mistah Fab for "Fly Like I." How did that collabo come to be and how was the working chemistry between you two?
KID KAMAKAZI:   My producer J Mac was really good friends with Mistah Fab. He  told him the story about me. He said lets do it and we  came up  with "Turf Talk." He took them to one of Kurupts studio, rapped a little bit for Fab and Turf showed them a lil versatility about me. Turft and Fab loved it and  said I will be blowing up soon. Mistah Fab, man it was great working with him, I always bumped him in my car before I started rapping and I noticed he is not just about what he raps, the guy is very smart too and the way he thinks is bannans, ha ha.  Big ups to Fab and Turf!
Stoli: Hip hop emcees have become a very diverse bunch. Do you feel that it is easier or harder to gain respect & recognition in the game today?
KID KAMAKAZI: I say it is a little easier but yet it is still hard. If you do not have the voice for it then people don't respect.  I have seen it many times for other people.
Stoli: When you are not in the studio what do you like to do for fun & relaxation?
KID KAMAKAZI: I am always in the studio,  I got a studio in my studio, ha ha. If I'm not in the studio I'm in the house with the studio,   ha ha. I also actually Drift cars, lift weights go to special events and  meet artist just furthing my career.    I also like meeting new fans I love getting new fans. HOLLA!
Stoli: I really love your song "Jerk Track." It shows that Kid Kamakazi is versatile. What is that song all about & did you mean to give it a "hyphy" sound?"
KID KAMAKAZI: I did the "Jerk Track" randomly and had a little fun, I was just being me when I heard the beat.
 
Stoli: What kind of woman in LA do you go for and where do you take them out in LA?
KID KAMAKAZI: I go for any girl that is cute, down to earth, hot, sexy, good personality, and great attitude. I like them a little ghetto with a lil' class like me for me. I take them to the movies, to the beach, a couple of my producers cribs to party, Highland club, a lil bit of drifting. Later on it will be to  take em all over the woooooorld!
Stoli: What do you do in the streets so that heads know you are much more than a Myspace rapper?
KID KAMAKAZI: Ha ha, Myspace rapper! I really hate that term.  Well first of all people recognize my talent that they can picture me on the big screen and on the radio. I just do me and  if you don't like my character then you don' butt if you do then you do. I just stay  working with big name producers in the industry that see something in me.
Stoli: I like how your tracks have a heavy dance flow like, "Clutch Shooter." How do you test these tracks so you know they will work in the clubs with the ladies?
KID KAMAKAZI: I have not really tested the track at all. I just have had  a couple of people hear it. I believe it's hot and will be on the radio in heavy rotation. My ex girlfriend plays it all the time and we broke up on bad terms, so you know thats when your doing it,  ha ha.
Stoli: Where can fans get more from Kid Kamakazi and what is coming up that we can get ready for?
KID KAMAKAZI: At the moment you can find me on www.myspace.com/kamakazinextlevel. On Youtube or  Itunes just search Kid Kamakazi.  Just keep talking about me on the streets and I will be on the radio to entertain you and on the big screen. Thank you everyone and I love all people, and you gotta love your haters they just make you wanna push harder muuuuhahahaha. Working on a movie with one of your favorite actors don't want to say who just yet.  Should be setting up a small tour with Usher's group and hopefully working with more and more artists. Hopefully able to work with Eminem, man he needs to hear  one of my tracks on an instrumental like his. Maybe we can cook something up with  Em and Dre.