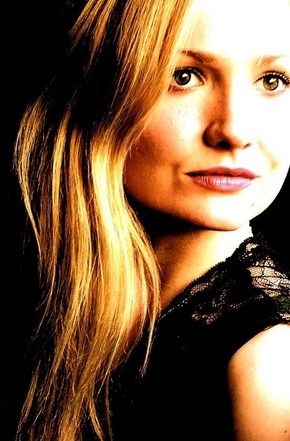 I must have been sleeping to miss the talent of Alicia Wiley until now.   She was the Minnesota Music Award winner as Best selling self released recording 2004,   Best Female Vocalist 2004, and Best Keyboardist/Pianist 2006.   She has been compared to Fiona Apple and Diana Krall but this voice is even better.   In her gifted songwriter she mixes great classical jazz piano on some songs and a vibrant pop voice on others.    
Since she was 6 years old Alicia has played the piano.   Her father was a "closet piano player". "He's one of those guys who sits in the basement and plays, but doesn't really play for anybody. Starting in middle school, I'd stand next to the piano and sing along to some of the standards with him."   "Every genre influenced me, I just love a good song", she says.     "I listen to everything from pop to jazz to hip hop and rock.   I'm a HUGE Joni Mitchell fan, along with Michelle Ndegeocello, Bjork, Radiohead, Keith Jarrett, Chick Corea Elaine Elias..and many many more".
"I really loved an improv class and a studio class I took from Mike Elliott [at Musictech, now McNally Smith College of Music]. He was definitely one of my favorite teachers. He really inspired me and was very encouraging. I'd always sing when I played, but I was very shy about it. Sue Tucker really helped me get out of my shell as far as singing." Alicia currently teaches keyboarding at Minneapolis Central School and My Music Store as her day job.       When I asked her what her favorite places to play in town we she said, "lately the Kitty Kat Club, Dakota Jazz Restaurant and the 7th Street Entry".
I just released my 4th CD called Halfway Home. It is a departure from my previous releases. There is more structure to the music, less improvisation. I spent a lot of time on the production and had an absolute BLAST during the whole process! The messages are very true to my own experiences and centers around love and searching with a twist of whimsical romance. Also a track or two on living to the fullest and fulfilling life's purpose. Overall it has a very positive uplifting message.
As for what she would like to be doing 5 years from now Alicia says, "I would love to have some more traveling under my belt. Touring is one thing I haven't done a whole lot of at this point.   It would also be nice to be working on my..8th CD. ; )
My favorite cut on Halfway Home is "New Love". You can hear it as well as other great songs by visiting her myspace at www.myspace.com/aliciawiley.  
 
Photo by Darin Back
Words By: Diana Olson