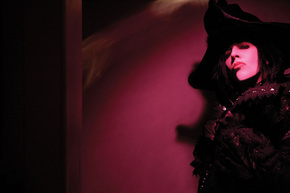 Controversial rocker Marilyn Manson has recently released his video for "Arma-Goddamn-Motherf*ckin-Geddon," the first single from his forthcoming album The High End of Low.
The video, which was shot with 30-40 cameras yet only contains footage from two of them, is no less shocking than what fans have come to expect from the shock-rocker with fire, narcissism, bikini clad protestors, and a load of F-bombs. With such explicit title and lyrics it is no surprise that Manson has released two versions of the video, clean and dirty, for the viewing audience.
For those looking to hear what else is in store from The High End of Low, before the album's May 26th release, a micro-site has been created with a preview from each of the 15 tracks on the record.
Video download link – DIRTY:
Video download link – CLEAN:
Album preview micro-site: