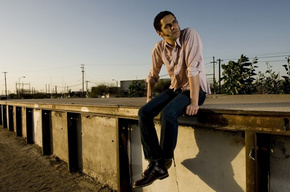 DePedro may be the first solo album for the man behind the name, Jairo Zavala, but in no way is it his debut. Already a celebrated recording artist in Spain, where he was born and raised, Zavala has spent the past two decades playing, writing, and performing with bands like Amparanoia, Vacazul, Los Coronas, and Calexico.
DePedro is, however, his most personal work, with songs written from his own experiences, his own thoughts and feelings, the music he's looked to — from Afrobeat to flamenco to prog to pop. The inspirations are simple, the everyday things we all experience that unite and define us as human: regret, memory, love, fear, loss, and happiness.
DOWNLOAD: "Don't Leave Me Now":
The album out August 18 combines Zavala's varied influences with a very particular North American bent, in part thanks to the fact that it was recorded in Calexico's studios in Tucson, and that the band themselves helped to complete the songs Jairo had already written.