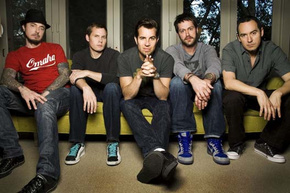 311 has put the final touches on their new video for new track "Hey You"! "Hey You" combines the band's new slightly heavier rock tone with their signature reggae-funk roots.  
"Hey You" was directed by Joe Lynch (Pete Yorn, Godhead, the original Toxic Avenger).   Take a look for a preview of what to expect from the new album, Uplifter, out June 2nd on Jive Records!   311 is currently wrapping up a Spring tour and will get right back on the road to kick off the Summer Unity Tour with Ziggy Marley and The Expendables on June 5th.
"Hey You" Video:
Their Unity Tour '09, will feature special guest Ziggy Marley and will hit amphitheatres nationwide, launching in Santa Barbara, CA on June 5 and wrapping in Irvine, CA on July 12.
311 SUMMER UNITY TOUR:
06/05   Santa Barbara, CA           Santa Barbara Bowl
06/07   Eugene, WA                             Cuthbert Ampitheatre
06/08   Seattle, WA                               WaMu Theatre
06/11   Salt Lake City, UT             Usana Amphitheatre
06/12   Denver, CO                               Red Rocks Amphitheatre
06/14   Chicago, IL                               Charter One Pavilion
06/16   Cleveland, OH                       Time Warner Amphitheatre
06/17   Columbus, OH                       Lifestyles Communities Pavilion
06/19   Detroit, MI                                 Freedom Hill
06/20   Cincinatti, OH                         Riverbend Amphitheatre
06/21   Indianapolis, IN                   The Lawns
06/23   Saratoga, NY                           SPAC
06/24   Boston, MA                                 Comcast Center
06/25   New York, NY                           Central Park Summerstage
06/27   Holmdel, NJ                               PNC Bank Art Center
06/28   Washington DC                     Nissan Pavilion
06/30   Philadelphia, PA                   Penns Landing
07/01   Virginia Beach, VA           Verizon Wireless Amphitheatre
07/03   Charlotte, NC Verizon   Wireless Amphitheatre
07/04   Atlanta, GA                               Lakewood Amphitheatre
07/05   Raleigh, NC                               Walnut Creek Amphitheatre
07/07   St. Louis, MO                         Verizon Amphitheatre
07/10   Phoenix, AZ                             Dodge Theatre
07/11   San Diego, CA                       Cricket Wireless Amphitheatre
07/12   Irvine, CA                                   Verizon Wireless Amphitheatre