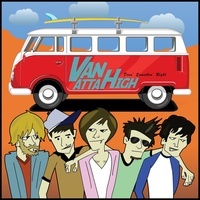 I posit that as a music journalist, you aren't working these days unless you are writing about the proliferation of Pop-Punk bands. For this music journalist, it proves that I am not immune to the generation gap; rather a victim of it. My generation's vantage point saw Punk as fringe and never intended for mass consumption (can I get some Minor Threat over here?). Contemporary Punk is a stratified world of sub-genres that is more mainstream than marginal. And among it, I am an elder statesman. That brings me to…
The man-boys from New Jersey's Van Atta High have seen a departure from the angsty screams of their origins to the listener-friendly tracks of their new EP, Doin' Somethin' Right. It is only appropriate due to a band shake-up that saw four founding members leave. Opening to the agro title track, remaining original member Steve Kellner proves he can still belt out upper octave screams when necessary. The other shiny moment from the track is a strong commitment to heavy and precise guitar work. Destined to be the album's first single, "Birthday Girl" keeps Kellner's vocal work at the forefront, despite the "boy, girl, relationship" lyrical subject matter that is industry standard. Perhaps farthest removed from "standard" is the revamped "Afternoon Delight." While the final product of this could have been ridiculously campy, the VAH version is catchy without crossing over into kitschy (how they came to update a 1976 hit however, is beyond me). The backend of the album ("Just Lie", "Call Me Jersey" and "Throw Away Heart") showcases VAH's mellowed acoustic prowess and grasp of melody.
Over all, the album is earmarked with great production work and kudos are in order for the 180-degree turn around that their sound has gone (along with their clear commitment to it). Though I had written this genre off as too homogenized a long time ago, VAH has a direction and vision despite the myriad of their peer bands that are heading the same way.
Review by Chris West
[Rating: 3/5]