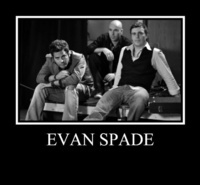 Within the bounds of the music industry, the Internet has emerged as the paramount vehicle of choice for up and coming as well as established artists. The sheer breadth and scope of the net's reach is virtually limitless, and no one knows this better perhaps than Dallas-based pop rockers Evan Spade. And the pairing of "Internet-to-band" is a fortuitous match in that Spade's work ethic seems to share the same limitless bounds as those of the net. To list his web-based accolades and media ventures would require a separate review.
Melody and musicality are the presiding facets of the tracks I have heard thus far (as of press time, Spade's bio states he is currently in the studio finishing the album). However, it is important to note that the released tracks are garnering the aforementioned accolades; and a lot of them. Album standout "Human Cannonball" is radio-friendly pop goodness at its best. Spade's lyrical poignancy and vocal delivery are enveloped nicely in rock riffs, backing keys and appropriate crescendos and decrescendos. The piano and vocal intro to "NYC" showcases that Spade has equal command of both his "instruments." His tenor vocals wax and wane between gruff whispers and near falsetto ranges with equal ease. "Joyride" again features their pop rock leanings, with Spade's vocals at the forefront. Clever intermittent guitar work and a solid rhythm section foundation round out the track that is bound for a standard radio rotation.
Spade et all have perfected the formula for the three-and-a-half minute song–the hooks and melody carry equal weight and tend to stay with you long after the track has ended. The available tracks (along with the recognition they have already received) are testament to the fact that the product that Spade is selling certainly has people buying.        
Review by Chris West
[Rating: 3/5]