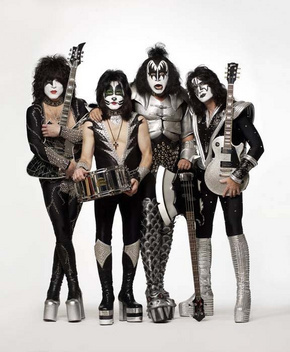 KISS is celebrating 35 years of rockin' the world like no other band has ever done before. The legendary band, currently touring soccer stadiums of South America, announced from Brazil today that their upcoming U.S. and Canadian tour will be the world's first to put fans in charge of where their favorite artist plays.  
By partnering with Eventful, the leading social media company for events, fans will "Demand" where KISS will perform on their latest trek across the top-voted North American markets beginning this September. No matter where the fans say–from stadiums to cornfields–if there are enough votes, KISS will be there! And in order to keep the competition fair for smaller cities, final site selection will weigh population size versus total votes.
 
Today at the zero hour of exactly 3:00 PM EDT, an official video announcement by the band's Paul Stanley, Eric Singer, Tommy Thayer and Gene Simmons (see video at www.KISSonline.com) kicks off this first-ever promotion.   Immediately following the video's debut run, fans across the U.S. and Canada can cast their votes at www.eventful.com/KISS to have their town included on the KISS 2009 North American tour.   Fans will be able to vote, and check the tally of what cities are in the lead, 24/7 across the Web at the previous sites; as well as on KISS' MySpace and Facebook, Ticketmaster's KISS page, VH1Classic.com, and many more.