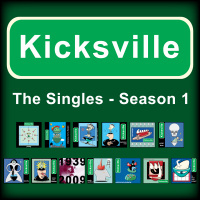 Welcome to Kicksville. Your tour will last roughly an hour and will consist of an episodic journey into a genre-bending society.
Before diving into Kicksville's The Singles — Season 1, take a look at the art inside the CD booklet. Each track has a corresponding cover by illustrator Andy Ewen, with the recurring themes of eyeballs, fire, and teeth.
As for the music, it's unlike anything I've ever heard before. It's electronic mixed with pop mixed with blues that is certainly never boring. In an age where a lot of music sounds the same, it's refreshing to find a band that certainly isn't afraid to take risks. The band itself describes the musical smorgasbord as having something for everyone. Do you like The Police? The citizens of Kicksville put their own spin on "Walking In Your Footsteps."
The album, originally released as 13 weekly singles, or episodes, proves that musicians can be serious, take risks, and still have fun. The band is incredibly talented, which is especially evident in reading the album booklet and the explanations behind all of the songs. They take themselves seriously as musicians, but at the same time don't take themselves TOO seriously. The band describes its song Surrender as "one sugary fun dance tune about being a mindless consumer whore!"
Which is another plus of the album. Sure, love is easy to write and sing about, but it's nice to hear songs about something else.
So, if you like experimentation, fun beats, electronics, and a mixture of every musical genre you can think of, Kicksville is for you. If you like the idea of a band "whacking the shit out of a bass with a drum stick," Kicksville is for you. And if you want to spend an hour in an entirely different dimension, Kicksville is for you.
By Valerie Williams
[Rating: 3.5/5]