Diesel is always exploring the next revolution in denim treatments and silhouettes and this Spring 2009 is proud to introduce the most innovative collection yet, the Bastonati Denim Collection. Bastonati is an Italian term that literally translates to "beyond recognition" which explains the transition this denim goes through from start to finish.
The Bastonati Collection consists of a variety of detailed treatments all hand-made allowning no pair to be exactly the same. These treatments create distinct styles that run the gamut from prepster chic to ripped up rock star. The denim treatments in the Bastonati Collection are intense and range from a resin spray baked into the denim to create permanent creases, abrasions made with sandpaper, hand painted spots and reinforced holes.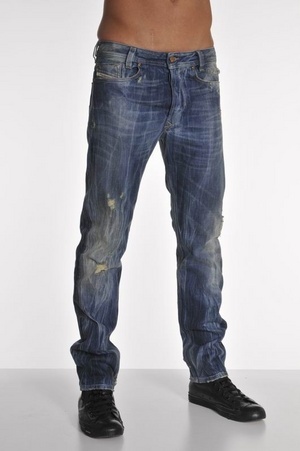 This versatile collection offers washes for the athlete, the rocker, the hipster and even the corporate executive to wear over the weekend. The Bastonati collection comes in Diesel's most popular styles including Viker and Heeven for men and Matic and Nevy for women. Whether you're wearing sneakers, loafers or heels, the Bastonati collection has the perfect jean to complete your look.
The Diesel Bastonati collection will be available nationwide this summer for men and women ranging in price from $200 – $350.