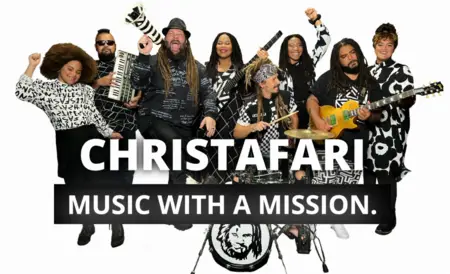 As trailblazers, Christafari is continually pioneering the genre of Gospel reggae in the U.S. and throughout the world. But the band is more than just musicians; they're "musicianaries" (musical missionaries), spreading the message of hope and salvation globally with a relentless touring and release schedule. They've ministered in 85 nations, all 50 of the United States and released over 100 music videos.
Christafari was founded in 1989 by Pastor Mark Mohr. Raised in a Christian family, during his teens Mohr strayed from his spiritual upbringing and turned to drugs and alcohol, going as far as growing and even dealing marijuana. After running away from home, living on the streets, and hitting rock-bottom, he had an undeniable encounter with God that drastically transformed his world. At 17, Mark re-committed his life to Christ and took what he now calls his "Freedom Step" out of addiction.
At that point, his greatest desire was to help others escape the same bondage that once entangled him. He felt God leading him to start the first Gospel reggae band in America. Just two weeks later, the band was birthed at a camp talent show when a friend said, "So you're not a Rastafarian anymore; you're a Christafarian." And the name stuck!
While their name may just sound like a play on words, in Biblical Greek it stands for a group of people who bear or represent the name of Christ. "At that time, the best advice I was given was to go to Bible College so I could be theologically and doctrinally sound," says Mark, who attended BIOLA University, taking classes that emphasized pastoral studies and missions. During his college years, Christafari continued to take shape as Mark wrote songs for the band's first three albums "Reggae Worship Vol. 1", "Soul Fire", and "Valley Of Decision".
In 1999, after recording two hit albums with Gotee Records under the tutelage of TobyMac, Mark branched out and founded his own record company, Lion of Zion Entertainment, with the goal of "reaching the world through world music." He later launched GospelReggae.com.
In 2002, while ministering in the Caribbean, Mohr met Trinidadian musician Avion Blackman. The two married a year and a half later and Avion joined the band full-time on bass and vocals. Avion comes from a very large musical family. Her father, Ras Shorty I, invented Soca and Jamoo music and trained over a dozen of his children to become his own backing band. She began singing lead on stage with her father at only four years old and started playing bass in his band The Love Circle at age 14.
Christafari is comprised of men and women from various continents, countries, and cultures who are true missionaries at heart and share a love for reggae music and passion for following Jesus to the ends of the earth.
Christafari is no stranger to chart success. Since the release of their first "Reggae Worship" album in the early 90s, most of their CDs have held high positions on both the Christian and/or Reggae Billboard charts. In 2012 Christafari made history as the first Gospel artist to hit #1 on the Billboard Reggae Charts with "Reggae Worship: a Roots Revival." Each of the band's 5 subsequent studio releases has also topped the Billboard Charts. However, speaking about the band's chart successes, Mohr states, "We care a lot more about hearts than charts. Our passion is for souls, not sales, and we only do concerts as a way to make converts and fulfill the great commission."