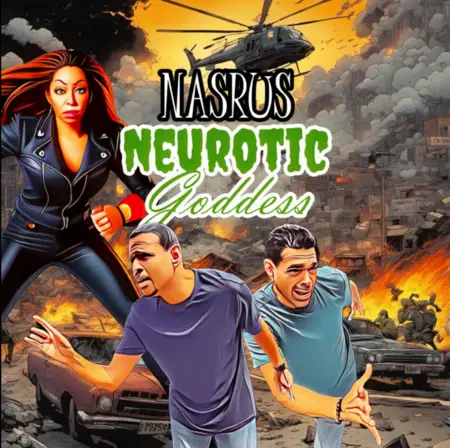 Grammy nominated recording artist and producer Shawn Rivera (formerly of Az Yet ) and acclaimed singer-songwriter Norm Adams (best known for his duets with Julia Robertson of the 90's girl group Ex-Girlfriend), have joined forces to form NASRUS; a Philadelphia-based vocal duo and songwriting/ production team, whose brand of fun, upbeat pop/dance music is sure to resonate with multigenerational audiences.
With a self–identifying name (Norm Adams + Shawn Rivera = US) and a "let's not take ourselves too seriously" attitude, these two accomplished performers are set to introduce their next act in a major way: with the release of their debut single, "Neurotic Goddess". Written and produced by NASRUS, "Neurotic Goddess" is a tongue–in-cheek cautionary tale about the dangers of infatuation. In other words, sometimes that which looks good to you may not necessarily be good for you.
https://orcd.co/nasrus
https://www.nasrus.com/
Shawn Rivera is a bonafide Pop/R&B superstar, whose debut album with Az Yet, sold over 1 million physical copies and yielded 2 platinum singles; "Last Night" (US Billboard #1 Hot R&B/Hip Hop Songs) and "Hard To Say I'm Sorry" (feat. Peter Cetera—US Billboard Hot 100 #8). As vocalist, arranger, and co-producer, along with David Foster and Babyface, he received a Grammy Nomination for "Best R&B Vocal Performance by a Group or Duo" for the latter hit. Post Az Yet, Shawn co-wrote the title track to Jon B.'s sophomore album "Pleasures U Like", and served as the lead producer, as well as musician and guest vocalist on Dr. Maya Angelou's final recording, "Caged Bird Songs", which was featured on the Oprah Winfrey Network. More recently, he has created new music for the horror film "Guillotine", recorded with the group Viva Mas, and released a successful solo single entitled "Giggity". He has entertained and/or been a public speaker in over 40 countries and has appeared on numerous national television programs as either an actor or guest artist.
Norm Adams is an award-winning artist whose debut album, "This Is My Time" yielded a top 10 European radio hit entitled, "Love Me". With Julia Robertson, he released a string of critically acclaimed, self-penned singles; "Body Rush", "Home Tonight" (produced by Buddy Wike of the R&B group Intro), "Over", and a feel-good holiday song called "My Kinda Christmas", which is featured in the movie "Once Upon a Philly Christmas". Norm was named "Best Male R&B Singer" by the Lady Flava Radio Network two years in a row, and "Body Rush" was named "Song of the Year" by the New York based "Russ and Stew Show". As a performer, Norm has shared the stage with some of the biggest names in Adult R&B and Hip Hop, including Christopher Williams, Melis'a Morgan, Hi-Five, Force MD's, Full Force, Intro, Shai, Changing Faces, Allure, and the late DMX. He has also appeared on major daytime television programs such as "The Q" (WXTF Fox 29, Philadelphia, PA) and "The Morning Blend" (KGUN ABC 9, Tucson, AZ).