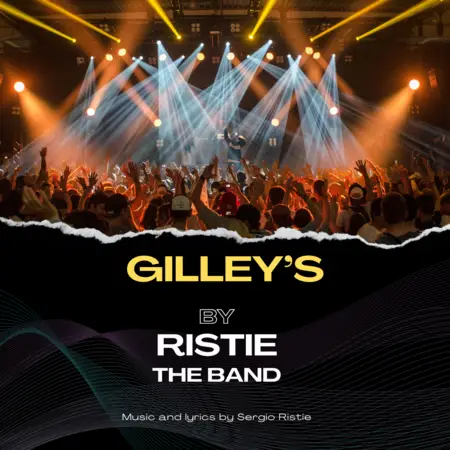 Ladies and gentlemen, you're in for a wild Texan ride with Sergio Ristie and his band as they dish out a steaming plate of "Gilley's" this Halloween season. With his new single, Sergio Ristie takes us back to the Texan heydays of honky-tonk and pairs it with a fresh, modern twist that's bound to have you stomping your boots and swinging your partner in no time.
"Gilley's" kicks off with a shoutout to Houston, Texas, and it's evident from the get-go that this track is a love letter to the Lone Star State. Ristie's lyrics are a rollicking rollercoaster through the Texan experience, with lines like, "Feeling good in my neighborhood, it's time to get down like I know I should." This song is all about letting loose and embracing the spirit of the dance.
Sergio Ristie's vocals are infectiously enthusiastic, evoking the energy of a Texan honky-tonk in its prime. His signature hoots and hollers add a charismatic layer to the song, making you want to join in the party. You can almost visualize the bustling dance floor and feel the camaraderie as Ristie beckons you with a spirited "Let's go to Gilley's!"
The instrumental aspect of "Gilley's" is equally remarkable. A funky DJ, driving beats, and a groovy guitar solo keep the energy high, making it impossible to resist tapping your toes and swaying to the rhythm. Ristie's band complements his fervor with a tight and lively performance that's as infectious as the lyrics themselves.
While "Gilley's" is no lyrical masterpiece, it doesn't need to be. It's all about the experience, the feel, and the soul of Texas embodied in a few minutes of musical delight. Sergio Ristie and his band deliver on their promise of a feel-good track that makes you want to get up and dance, whether you're at Gilley's or anywhere else.
In conclusion, "Gilley's" is an irresistible, toe-tapping tribute to the Texan spirit, delivered with gusto and flair by Sergio Ristie and his band. So put on your boots, round up your friends, and get ready to two-step the night away with "Gilley's." Yeehaw!
https://www.instagram.com/sergioristie/
https://twitter.com/sergioristie