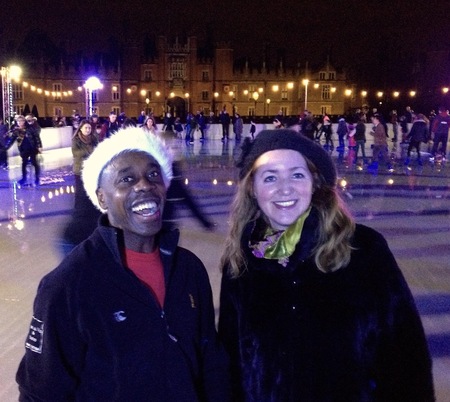 A few years ago at Christmas time, singer-songwriter D'Artagnan met Josie for their first date at Hampton Court Palace's ice rink. Exactly a year later, he proposed there. She said yes.
Overwhelmed with joy, D'Artagnan expressed himself the only way he knew how – through song. Merry Christmas Darling is the heartwarming festival single based on D'Artagnan's real life Christmas Love Story that seeks to share the couple's warmth with audiences everywhere in the holiday season.
This year, D'Artagnan is presenting the Christmas ballad with an all-new music video to encapsulate the spirit of the story. Bringing together high-quality new footage and home videos of their original date, the video for Merry Christmas Darling marries joyous memories with a well-produced production.
Merry Christmas Darling follows on from D'Artagnan's 2019 album Crush Hour, which received airplay on over 100 FM stations across the UK. The album was far from D'Artagnan's first foray into music. Trained from a young age across the arts, including dance at Pineapple Studios, D'Artagnan joined his brother as a double act that quickly made a name for themselves performing for celebrities including Tom Cruise, Michael Douglas, and Michael J. Fox.
With the release of Merry Christmas Darling on 1st November 2023, audiences everywhere will be able to share in the Christmas love like never before.
Facebook: https://www.facebook.com/dartagnanmusicuk/
Twitter: https://twitter.com/DArtagnanArbuah
Instagram: https://www.instagram.com/dartagnanmusicuk/
Website: https://www.dartagnanmusic.com/
Youtube: https://www.youtube.com/channel/UCSKr-Pe0YSPMWrNbSgM_Lfg/featured