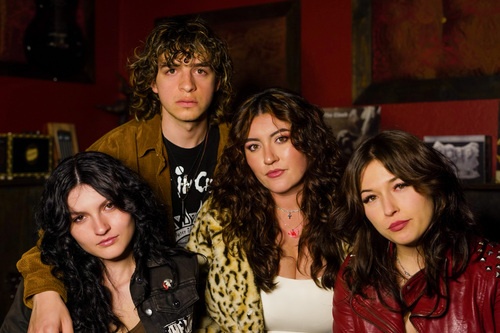 Some band names seem to come from nowhere – but some are damn near perfect at describing the music. Enter Black Rock Candy: as their name might suggest, the southern California quartet creates songs with catchy, memorable choruses with a hard rock edge. Musically, they take influence from artists like Heart, Stone Temple Pilots, and The Runaways while adding real-life inspirations from events that have happened to them and challenges they've faced. This down-to-earth passion and drive has helped them land two songs on-air at 95.5 KLOS and taken them on tour.
Black Rock Candy's latest release is "Trouble," and it's a story that far too many can relate to: the inspiration for the song came from a friend who had cheated on his girlfriend. The gritty opening guitar riffs will make anyone pay attention, as the lyrics tell a clear story of betrayal. "Trouble" was an eye-opening experience for the band, giving them a new sense of purpose and direction – and ultimately finding some irony: the person that song was written about digs the song, and has no clue he's the subject.
Filmed at Break Room LA by cinematographer Eric Crain and produced/directed by Alli Parra, the "Trouble" video opens up with a shot of the band preparing to rock out. Muted tones in the visual contribute to the feeling of desolation and despair heard in the lyrics, while red-filled shots of the band members smashing gear perfectly display the anger underneath. For anyone feeling betrayed, "Trouble" is the balm to soothe your ache.
Follow Black Rock Candy:
http://www.blackrockcandy.com
https://www.facebook.com/blackrockcandyband/
https://twitter.com/blackrockcandy
https://www.instagram.com/blackrockcandy/?hl=en