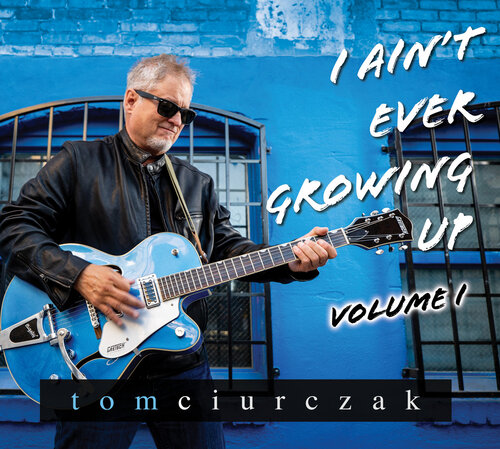 Tom Ciurczak titles his album I Ain't Every Growing Up, Vol. 1, so with at least more volume still on the way, Ciurczak is clearly serious about avoiding adulthood. With that said, though, this eight-song part one is very much a mature set of rock and roll tunes.
https://tomciurczak.bandcamp.com/album/i-aint-ever-growing-up-volume-i
Ciurczak also enjoys creating videos to support his music and has an extensive YouTube page filled with his various visuals. He's furthermore inspired by some of the very best songwriters, and lists Elvis Cosetello, Bruce Springsteen, and Steve Earle among his favorites.
While rock music is his bread and butter, one of the songs that stands out most on this outing is actually an authentic sounding reggae song titled "Kilimanjaro Skies," which is colored nicely with organ fills and pretty backing harmonies. One imagines he's also quite the world traveler, in order to write a song about such an exotic place. Although this track includes soulful instrumentation, it also features plenty of electric guitar, as well.
The album closes with "Bonnie And Clyde," which is a title that immediately grabs one's attention. It tells the story of a doomed relationship. It probably wasn't as dangerous as that historical crime couple amounted to be, but when you bring these two baddies into the equation, you just know it can't be morally good. Ciurczak sings it over a clipped electric guitar-driven groove. Then again, sometimes it's the especially dangerous ones (the Bonnies, the Clydes) that are oh so attractive to us. Love plus adventure can be an unbeatable temptation, at times.
One called "The Vault," likely has nothing to do with where money is stored before stolen by bank robbers, so it is unlikely it's related at all to the Bonnie and Clyde characters that follow it in the very next song. It is, however, the track that most closely sounds like a Springsteen song. Both melodically and lyrically, it may remind listeners of The Boss's "Bobby Jean." It also sounds like a song about a loyal friendship, as with Bruce's recording. This one is made especially enjoyable because of the harmonica that comes in and out throughout the mix.
"Right Or Wrong Choice" is one of the album's softer moments. It's sung from an outsider's perspective, who is looking in on a woman that's recently had her heart broken. It's sung empathetically, as by one who also seemingly knows what it feels like to have a heart broken. Ciurczak sings in a gentle, higher register on it. It's quite pretty, and significantly different from much of the rest of this project.
The album's best rocker is "Action Out There," which has a lead guitar part that may remind you of great old Heart songs. Interestingly, though, Ciurczak doesn't match the song's loud sonics with a gruff voice. He's able to sing even this one relatively smoothly.
This album is a smart set of songs. If Ciurczak were truly trying to avoid adulthood, he
Website: https://tomciurczak.com/
Socials:
Facebook: https://www.facebook.com/profile.php?id=100092202082226
Twitter: https://twitter.com/Tokyotommy58
IG: https://www.instagram.com/tokyotommy58/
would have likely filled his album with simplistic party songs. Nonesuch are found within, however. Instead, we are treated to a collection all mature folks will enjoy. Even the younger set will also like it because it's just that good.
-Dan MacIntosh