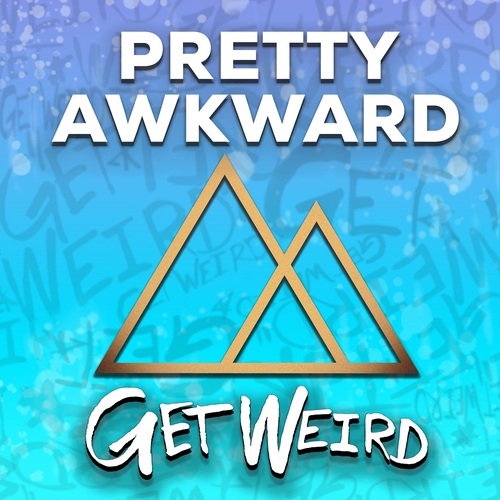 I haven't heard many bands in recent memory that are as ready for mainstream success as PRETTY AWKWARD. Anchored by the creative partnership between Austin Held and Nicholas Wiggins, they have a ready-made sound for the 2023 musical landscape that announces itself with a bold attitude and enormous skillfulness. Their bandmates complement their vision for the music in PRETTY AWKWARD's new Get Weird album in a seamless fashion without ever pandering for mass appeal. Their identity is strong and comes across loud and clear in each of the collection's eleven tracks.
They announce who they are, loud and clear, from the first song onward. "Hang Out" is a slice-of-life number peering behind the curtain into this Seattle band's everyday life. Their lyrics hinge on just the right number of specific details that flesh out the world they inhabit, and the music provides a perfect rhythmic accompaniment. The group has a tendency to lean on anthemic songwriting and the first brilliant example of that arrives with the track "Misfits". It's a song clearly tailored as a communal track geared to unite an audience, but never feels or sounds false. The chorus, especially, will have any audience on the band's side.
"Get Weird" has alt-rock authority at key points while blending the band's other primary influences into the mix. It's a muscular musical workout, but PRETTY AWKWARD never forgets to blend the light in with the heavy. The title song is a statement of purpose in some ways, much like its predecessor, and doubles down on the sense of identity present throughout the collection. The contrast between light and heavy is even starker during "Castle Walls". It sounds natural, however, and never disorients. They seamlessly transition from the light touch of the song's verses into its thunderous chorus with expert skill.
"Higher" lives up to its title. The vocals for Get Weird deserve the spotlight as much as any other facet of the band's presentation and "Higher" has enormous uplift in that area. EDM isn't far removed from the song's core, particularly thanks to its beat and the backing vocals, and it's another example of how the band fashions these songs as personal statements and audience pleasers alike. "Woozy" has a chorus that is as addictive as the relationship it portrays in the lyrics. They take a left turn into groove territory with "Long Gone", a classic kiss-off song from beginning to end, and its strong hook aids in setting it apart as one of the album's pinnacles. 
They return to cinematic musical territory with "Bored". It's another audience pleaser, but the wide-screen mentality driving the tune is arguably the best example yet of their anthemic tendencies in full blossom. The chorus is powerful and sure to stick with listeners after hearing the song a single time. PRETTY AWKWARD's Get Weird shows listeners an assortment of faces during its eleven songs united by common characteristics and invites repeated listens. These tracks will likely find, however, their most vivid expression in front of a live audience. The material is bracing, full of personality, and practically begs you to sing along. It's impossible to resist this band's charms. 
Gwen Waggoner