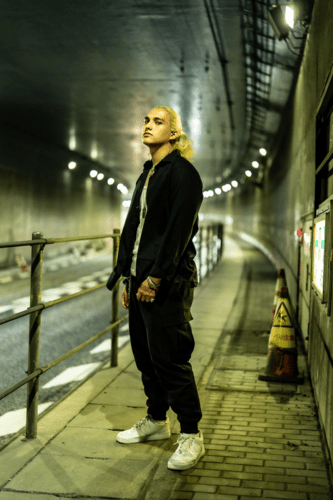 As the world of music continues to evolve, new artists emerge, each with a unique story to tell and a distinct voice to share. Today, we have the pleasure of diving into the artistic universe of Dici, a rising star whose journey from bedroom musician to accomplished hip-hop/pop artist is as inspiring as it is captivating.
Hi Dici, how are you doing today? 
I'm doing great, thanks for asking!
What is on your agenda this week?
This week is quite packed for me. I have a lot of meetings lined up, alongside a ton of editing work to get done, so it seems like it's going to be a productive yet busy week ahead!
Congratulations on the release of your new single '200 Miles', could you elaborate on the backstory of this track?
Thank you so much! '200 Miles' was born out of an unexpected burst of inspiration in a studio in the city of Bogota, Colombia. Surprisingly, there wasn't a specific event or theme that inspired this track. It was more about being in the right environment, sometimes, it is just the cobination of right time, place, and passion that produces the most authentic stuff.
Let's rewind a bit. When and how did you start professionally exploring the idea of becoming an artist?
I began exploring the idea as an artist at the start of the Covid pandemic. Stuck in my bedroom, there wasn't much else to do, so I started making music on my laptop. As I kept going and got better, my passion for music grew stronger, until I realised that this was more than just a hobby.
What were the biggest obstacles you had to overcome to get where you are today?
One of the biggest obstacles I've faced doing music is not seeing results. It is sometimes very tough to find motivation when not seeing results even though you are constantly putting in work. Perseverance and self-belief become your companions, you really need these, especially through the periods of uncertainty.
Who did you work with on the 'Dopamine' music video and where did you shoot it?
I worked closely with the talented director, Brian Bayerl, we brought our visions together to get the right visual narratives to perfectly complement the track. Miami's backdrop served as the canvas for this video, and provided the perfect blend of urban energy and coastal beauty.
Outside of music, what are your other hobbies?
Beyond the music, I really enjoy both working out and reading.
What is your favourite place on Earth and why?
My favorite place on earth is Tokyo because for some reason I feel most at home there, there's sense of belonging and comfort I experience there. 
Who would you like to share a stage with (dead or alive)?
Two standout name's I would like to share the stage with are either Offset or Yungblud.
What do you have planned for the rest of the year?
The rest of the year looks to be an exciting one, I have a tour planned in the US in October.
https://www.instagram.com/dicimusic/ 
https://open.spotify.com/artist/0rC4ZcFt2IQKejeqF1Ribb?si=HV2xR8RiRz6_aRrsnG8Z3Q 
https://www.facebook.com/dici305 
https://dicirecords.com/?fbclid=IwAR1UsztIru11O99fzLPx1v4PSTIIyyw5lP1_ZOrVLGBZMucsR4oTs6rlKgw 
https://open.spotify.com/album/3Mp0SyaYsAvIF0rriBN1OI?si=eqFYdpPjTsmzD9OuC662KQ