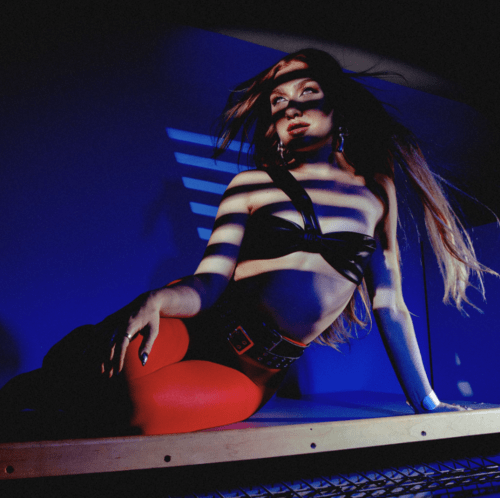 @skopemag news – friday – august 25, 2023 @ 10 am est
https://www.facebook.com/SkopeMag/
https://twitter.com/skopemag
https://www.youtube.com/@skopetv2
https://www.instagram.com/skopemag/
APP – Apple iTunes –
https://itunes.apple.com/app/id1465224822?mt=8
@skopemag APP – Google / Android –
https://play.google.com/store/apps/details?id=hr.apps.n207414718
Support @skopemag –
https://www.paypal.com/donate/?hosted_button_id=3APKAKT8K6ETW
PERISCIANS Release Video For "Halo"
PERISCIANS specializes in creating hard-hitting metalcore, with a wider range of influences injecting more of their personality into the music. The new single "Halo" lands today, following their debut "Blind By Design" released earlier this year, showcasing further the trio's distinctive take on metalcore.
DANGER MOUSE & JEMINI RELEASE NEW SINGLE "BORN AGAIN," ALBUM OUT TOMORROW
Celebrated producer and musician Danger Mouse and talented New York rapper Jemini (aka Jemini The Gifted One) have released shimmering single, "Born Again" – listen here.
Boulder's No Signal Release 80 Minute, Cinematic LP, "Distorted Reality"
TOBi ANNOUNCES ALBUM "PANIC" SET TO BE RELEASED OCTOBER 12TH
Today, Nigerian born, Los Angeles-based artist TOBi announces new album PANIC set to be released on October 12th via RCA Records – pre-order/pre-save HERE. Alongside the announcement, TOBi shares new bold and fiery track "Flatline" featuring label mate Kenny Mason –
Psychedelic Outfit AAWKS Releases New Single "1831"
Audrey Nuna Releases New Track and Official Music Video. "Locket" Is Out Today
Rising artist and rapper, AUDREY NUNA continues to blaze a trail, this time with her latest single "Locket," out everywhere today. The mesmerizing track comes with an ingenious official music video directed by the late Valentin Petit, who tragically passed in an aircraft accident earlier this year. "Locket" was the last music video he directed.
THE DOLLYROTS RELEASE OFFICIAL VIDEO FOR THE SONG "NIGHT OWL"
As they get set to hit the road once again the Dollyrots premiere the official video for their new song "Night Owl" directed by Steven Shea (Abyssmal Entertainment) and from their upcoming new album Night Owls to be released on October 13.
Sharifa shares music video for stand-out tune 'Bedroom Light'
Today London-based emerging artist and producer Sharifa reveals the accompanying music video for stand-out new single 'Bedroom Light'
Jacob Giaimo – New Single "It's Okay"
Jacob Giaimo, a singer-songwriter from Orlando, Fl., but living in Los Angeles, CA. for quite awhile now, has a new single coming your way September 1, 2023, "It's Okay". His thoughtful and honest music continues to resonate with his diverse fan base and garner new fans as soon as they hear his unique and compelling sound.
Heavy rock band Cascavell releases new single "Bluehouse Terror"
Heavy rock band Cascavell releases new single "Bluehouse Terror"
Cascavell presents their new single "Bluehouse Terror" on all digital platforms. "Bluehouse Terror" was recorded in Brazil, in March 2023 and had the partnership of Heitor Purcino and Nacle Nabak in the musical production.
"These are the names that help a lot in the production part, writing songs is always a walk for the 4 of us, but having someone who is more down to earth about how we perform everything is very useful. Heitor and Nacle are old friends ours and staying in a relaxed and familiar environment to be able to produce everything without stress is a very key point for us." – mentions the band.
"The guy enters the bar, goes dancing with a girl and discovers that she is a vampire. The lyrics that we write always have a very specific meaning for one or more members, but the cool part of the process is being able to make up that so that each person makes a different interpretation of what they are experiencing at the moment. Everything is 100% figurative." – Cascavell.
Cascavell brings influences from bands like; Aerosmith, Elton John and Motley Crue, with more 70s dynamics and with a hint that goes from Aerosmith, Guns n Roses to Mark Ronson. Following this line of reasoning, the band recorded the instruments and vocals with equipment from the 70s/80s. The band is formed by Johnny Wizzard (guitars), Lizz Kick (drums), Yago (vocals) and Billy Temper (bass and keyboards).
J-MILLA returns with new single 'On My Soul'. Set to appear at BIGSOUND and Field Day
Easily one of Australian hip hop's most dynamic new names, J-MILLA has harnessed the momentum generated off the back of a busy two years, and has poured it into his strongest material to date with the release of new track, 'On My Soul'.
Rawayana Releases "La Tormenta" With Servando Primera
Rawayana and Servando Primera come together to weather out the storm in "La Tormenta," Rawayana's new single from forthcoming album. Produced by Yeti Beats and Jasper Harris, known for their work with notable artists like Doja Cat and Jack Harlow, the Afrobeat track encourages listeners to confront adversity with a more positive perspective and attitude. "For me, 'La Tormenta' is the soundtrack of a fictional drama scene where the struggle between conformity and happiness is explored," shared Beto, Rawayana's front man.
ICYMI: YAHRITZA Y SU ESENCIA RELEASE NPR "TINY DESK" CONCERT
Today, two-time Latin GRAMMY® nominated artist trio, Yahritza y Su Esencia, marked a groundbreaking moment in their career with the premiere of their highly anticipated performance for NPR's Tiny Desk.
DUNDER and AMAANDA releases their new single 'Tiger'
With their pop-infused house music grabbing inspiration from numerous genres including garage, disco and soul – DUNDER provides their own take on how to make the listener move. The duo, consisting of Simon Boustedt and Ian Paolo Lira, started out as songwriting and producer colleagues which has now evolved into both a thriving friendship as well as a creative team to be reckoned with. DUNDER's passion lies in exchanging creative knowledge and personal qualities through collaboration and creation of music.
CITY GIRLS RELEASE NEW SINGLE "FACE DOWN"
This marks their third brash, straight-talking single this summer, as the Miami rappers' third studio album is close to arriving. In June City Girls' JT and Yung Miami gave the world the 'rich, young and pretty bitch anthem' "I Need A Thug", followed by the clever word-play of the "Pinata" single. In addition JT's "No Bars" came last month, as well as being prominently featured on Diddy's "Act Bad (featuring City Girls and Fabolous)."
ZEVIA GETS VULNERABLE IN NEW SINGLE "something i can't do"
BKTHERULA & YOUNGBOY NEVER BROKE AGAIN GET EMOTIONAL ON "CRAZY GIRL 2"
Saturday's Heroes release new single "How You Feel"
Saturday's Heroes' are set to release the studio recorded, full length album "Wanderlust & Hardships" during the fall of 2023. Recorded with the acclaimed producer Niels Nielsen, known for his work with In Flames, Dead Soul, Ghost, and MCC, "Wanderlust & Hardships" is Saturday's Heroes most ambitious album yet, and captures the Swedish group's melodic and vibrant take on punk rock perfectly. The second single leading up to the new album is called "How You Feel" and is released on all streaming platforms on the 25th of August via Lövely Records. Alex from the band says about the single:
Pop powerhouse Olivia Lunny releases 'Heartbreak On Repeat'
Today, Canadian singer-songwriter and rising superstar, Olivia Lunny, released her new single, 'Heartbreak on Repeat' (Infinity & Recordings / UMG Music Canada / Virgin Music). The track, which encourages listeners to reclaim their power amidst heartbreak, showcases Olivia's versatility and undeniable pop prowess.
MICHAEL ALAN Release New Single/Official Video 'Butterfly'
Butterfly, from UK's Michael Alan, weaves in and out stylistic leanings towards progressive rock, jazz and blues. Simplicity, tone and melodic guitar lines drive the intended theme of hope and wonderment for new beginnings Expressing emotions through melodies is the focal point for the Leeds (UK) based guitarist and this vison entirely shapes the compositional characteristics of the Calling album.
Dawty and BSHP team up on summer sizzler "Sunny Days"
Dropping a transatlantic ode to easygoin' summertime bliss and bass-heavy feelgood vibes, US producer Dawty hooks up with UK's up-and-coming singer/songwriter sensation bshp for a sizzling summer anthem: "Sunny Days" season is here!
OUT NOW: Pieces of Juno – Juniper (FFO Ane Brun, Susanna, Chelsea Wolfe)
Celebrating ten years of her chosen moniker this year, Oslo-based multi-hyphenate Juno Sandbæk-Jensen is set to release her latest album as Pieces of Juno. It's called Atlantis, and it's out on 27 October. A single – the first new music in over three years – called "Juniper" drops today.
JONATHAN SCALES FOURCHESTRA RELEASES 'RE-POTTED'
Jonathan Scales Fourchestra has released their eighth studio album, RE-POTTED. This conceptual release delves into the idea of moving to a broader and more demanding setting to foster personal growth, symbolizing the act of uprooting and replanting. The ensemble features composer/steel pannist Jonathan Scales, E'Lon JD on bass, and Maison Guidry on drums. RE-POTTED is the follow up to the group's acclaimed PILLAR (2018), which was featured in the band's 2020 Tiny Desk performance.
Iggy Azalea Releases "Money Come"
Produced by hit-maker Tricky Stewart ("Break My Soul," "Umbrella," "Touch My Body"), the sizzling summer anthem samples K7's "Come Baby Come," providing a fresh spin on the iconic 90s hit by blending nostalgia from the golden age of hip-hop with Iggy's distinctive flow and her unapologetic, razor-sharp lyrics.
VICTORIA MONÉT RELEASES DEBUT ALBUM "JAGUAR II"
Multi-talented Grammy-nominated singer/songwriter and producer Victoria Monét has released her debut album, JAGUAR II, available now via Lovett Music/RCA Records. JAGUAR II clarifies who she is and who she's meant to be – a trend-setting star who transcends fan expectations as she continues to metamorphosize from go-to songwriter into full blown household name as an artist.
VIC MENSA ANNOUNCES SOPHOMORE ALBUM, SHARES "BLUE EYES"
Multi-platinum selling, GRAMMY-nominated rapper/producer Vic Mensa has announced that his long-awaited sophomore album, VICTOR, is set for release on September 15th via Roc Nation. "This album is a story of redemption; trial and triumph, pain & glory," states Mensa. "It was forged from the rubble of a bad crash, literally and metaphorically, and follows my journey into spirituality, a return to Chicago, a return to Ghana and a rediscovery of myself."
Nyra shares milestone 15th Canoe release 'Happy Highs'
Canoe label boss and Adonis resident Nyra announces his latest release 'Happy Highs' out via Canoe on 25th August.
With an unmistakable talent for answering the needs of a dancefloor, Nyra goes big on 'Happy Highs', an infectious piano house cut that's impossible to resist. Bright, uplifting and belting, it's already sending ravers into meltdown during the festival road-tests and is perfect for an end of summer tear up.
BRELAND releases new single 'Cowboy Don't'
Continuing his rise as a game-changing singer-songwriter and country superstar, Bad Realm Records/Atlantic Records/Warner Music Nashville artist BRELAND has a little fun on the new track 'Cowboy Don't'. It is an up-tempo anthem full of playful flirtation and '90s-throwback style as BRELAND promises to treat a girl with the rowdy fun-love no "cowboy" can.
BANGLADEAFY: New York City Synthpunk/Industrial Duo Drops New "Whisper Rat" Single/Video
New York City synthpunk/industrial duo BANGLADEAFY today drops a new single, "Whisper Rat," and a corresponding video for the song.
Sophia Alexa shares her beautiful new single "Hall Pass" " Listen here
On the story behind the creation of "Hall Pass" Sophia shares; "I wrote hall pass because I wanted to capture the feeling of self-sabotage. I've always had this fear that when something is going too well I'm just waiting for it to fall apart. It's almost a form of protection and being okay with someone leaving before you get hurt, which is why I loved the title hall pass, it's giving someone an out."
Haunting New Single "Ethereal" from Captivating Duo TYDL
Get ready to be blown away by the electrifying sound of TYDL. This dynamic Brighton based duo, led by the fierce Rebecca and backed by the rhythmic force of percussionist Jack, is about to take the music scene by storm. Their fusion of genres creates a mindblowing sonic journey that hooks you instantly.
WILLIE J HEALEY releases new album 'Bunny' | Out today on YALA! Records
Willie J Healey has released his highly-anticipated new album 'Bunny' today on YALA! Records. Featuring no less than four BBC 6 Music playlisted singles – 'Dreams', 'Thank You (featuring Jamie T)', 'Little Sister' and 'Woke Up Smiling' – Bunny is a uniquely brilliant fusion of Philly soul, rock and R&B.
Jianbo Shares New EP 'Tears In My X.O Sauce'. Listen Now.
Rapper Jianbo is making waves in the music industry once again with the release of his latest EP, "Tear In My X.O Sauce." This highly anticipated project showcases Jianbo's unique style and lyrical prowess, solidifying his position as a rising star in UK hip-hop.
RISING MEMPHIS RAPPER A.R. THE MERMAID RELEASES NEW SINGLE "WATT WE DOINGG" OUT NOW
Over throwback production laced with a sample from the Rick James classic "Give It To Me Baby," A.R. The Mermaid gets colorful on the bouncy production. She drops one eyebrow-raising bar after another topped off with warnings such as, "Say she love me. Can't fall for it, boo!" As showcased by the track, she asserts herself as an individual through and through with sound and creativity like no one else in Memphis or the game at large.
Lilac Haze reveals new single 'Daisy Girl' and announces upcoming debut EP
Bath-based dream pop artist Lilac Haze returns with the release of her latest single 'Daisy Girl', released today – August 25th 2023, taken from her upcoming debut EP due later this year.
Fast-rising lyricist Ronzo smiles back at his adversities across "Trap Business"
Boasting trademark woozy basslines and sharp percussive textures, "Trap Business" perfectly encapsulates the resilience of an artist at his most comfortable. He reconciles with the battling hardships of street life while showcasing a clear desire for success, an honest, story-telling approach that blossoms at the forefront of his potent artistry. His flashy demeanour showcased throughout the electric video directed by UK frontrunner BDOT (Popcaan, M24, Clavish), we see Ronzo flaunting his vigorous lifestyle across Dubai – emerging as a shining call back to his unrelenting journey to fruition now set as one of the most exciting rappers across the underground.
Ariel Posen Releases New Single "Feel This Way Too" From Upcoming Album REASONS WHY Out on September 8
Recorded in Winnipeg, Manitoba and Montreal, Quebec in early 2022, Reasons Why represents personal reflection and artistic growth for Posen. The title refers to the explanation behind how and why we act, and how choices can further affect oneself and others.