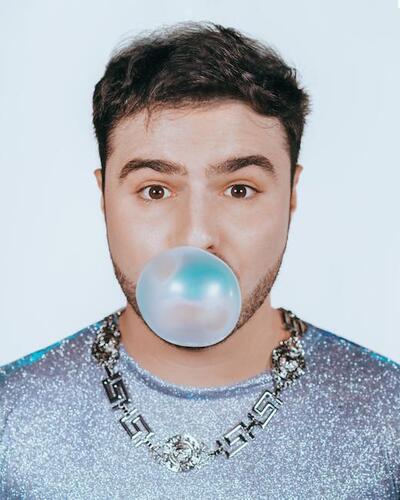 The louder the personality, the louder the music.
MkX does everything as loudly as possible. His encyclopedic understanding of pop music along with an unmistakable fashion sense results in his inimitable presence, steeped in millennial nostalgia with an eighties-infused futuristic flare. He's the kind of figure you look at twice on the street out of sheer curiosity. Architecting every nuance of his vision, he not only sings and writes, but he also produces each track along with a 360 multimedia installment including hand-crafted visuals and hi-tech stage effects. Generating nearly 5 million streams independently, he arrives as an undeniable force.
"I like to take everything I do and crank it to the highest maximum I can," he exclaims. "I'm such a late nineties and early two-thousands fanatic. I'm completely engulfed and immersed in the culture and memories I grew up with. My music is a mix of Pop and R&B with high-tech industrial sound design, incorporating different samples of gadgets and pieces of technology from my childhood. There's a very nostalgic quality to my music, but I always put a modern, futuristic spin on it. I love sprinkling unique sounds and effects throughout my songs to perk the listeners' ears."
As a kid, music immediately enchanted him. Although his parents worked in the toy business, he only gravitated toward "cassettes, CD's, and a Fisher-Price tape recorder," cutting his first vocals at just three-years-old. Two years later, he taught himself how to create visuals laden with effects before picking up guitar. By the time he reached grade school, he learned Garageband and spent countless hours on the program before adding Pro Tools, Logic, and Final Cut Pro to his arsenal. Through utilizing vocals, synthesizers, guitar, and keyboards, he slowly, but surely found a way to free the elaborate sounds stuck inside his head. He cut his teeth by performing local shows starting at age 7. Ten years later with 300 shows under his belt, he eventually landed shows opening for the likes of Ariana Grande, Christina Perri, and Rixton as part of a duo with his sister on drums. After logging a decade on the road, he attended the prestigious Berklee College of Music in Boston.
Inspired by the likes of Lady Gaga and Tinashe as well as producers such as Max Martin, Darkchild, Sophie, Cashmere Cat, RedOne, The Neptunes, and more, MkX carefully crafted his own sonic footprint. He incited buzz with solo releases such as "The Look" [610,000 Spotify streams] followed by 2018's "One Sided Love, a futuristic Pop/R&B track that scored over 900,000 Spotify streams and over 275,000 views on YouTube. Hitting #37 on the Billboard Mainstream Top 40 Indicator chart, the track propelled MkX to reach #2 on the Mediabase Top 40 Indie Label report. MkX kept the momentum going throughout late 2019 with "right place, at the right time," which scored heavy rotation on SiriusXM's Venus channel while generating nearly 500,000 streams on Spotify. During 2020, he delivered "In The Building," which gathered close to 1 million streams.