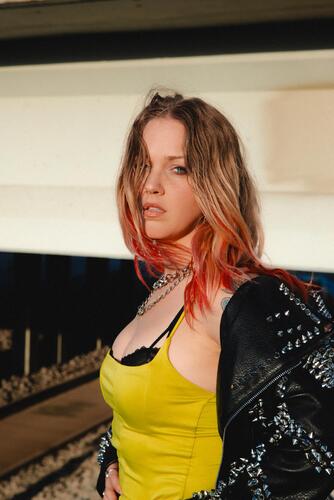 @skopemag news – tuesday – august 22, 2023 @ 11 pm est
https://www.facebook.com/SkopeMag/
https://twitter.com/skopemag
https://www.youtube.com/@skopetv2
https://www.instagram.com/skopemag/
APP – Apple iTunes –
https://itunes.apple.com/app/id1465224822?mt=8
@skopemag APP – Google / Android –
https://play.google.com/store/apps/details?id=hr.apps.n207414718
Support @skopemag –
https://www.paypal.com/donate/?hosted_button_id=3APKAKT8K6ETW
Scott Hepple and the Sun Band — Wildfires
UK psychedelic rock band Scott Hepple and the Sun Band has released "Wildfires," new single off their debut album «Ashes to Wildflowers» which will be released on Vinyl and all digital platforms on September 22.
Introducing: VERA BLOOM // New Single "Eyes On You" Out Now!
"'Eyes On You' is my dance song!" shares Vera. "It started out as a love song, which is something I don't really write often, but it leans into the possessiveness of love. It visits the loss of excitement in a relationship where things get a bit settled in and mundane. I've noticed that I am afraid of this stage in a relationship, so I used this song to process that. Over time, the lyrics have revealed new meanings as they always do and I can find the loss of childhood innocence where even the touch of skin is fascinating, and acknowledging the demons and darker feelings we find in adulthood. And, lastly, as I grow as an artist, I can see my desire to be seen and heard. My admission of wanting eyes on me and owning up to that. I wanted the video to be interesting, colorful, and also shine some light on the real rock and roll happening in the music. It's about energy and making vibes through sound with other humans. This song, as with all my songs, really comes to life in a live band setting. I hope you like it!"
Alt R&B duo Mermaid announce debut LP + share grooving single/video "Purr"
Along with the news, the band also shared their newest single + video, "Purr." A grooving, tip-toeing neo-soul/funk fusion, the track comments on performative allyship while feeling powerless in a society. The accompanying video showcases Campbell and Quarrels dancing in sync as black and white news footage is projected onto them.
WORMHOLE Rage Against the Machine on New Single
WORMHOLE warp brutal riffs and screeching dissonance into a signature tech-slam combo. So it's no surprise that the Baltimore band are huge gamers. Their new album 'Almost Human' was inspired by stomping fools at Metroid and Doom as much as headbanging to Artificial Brain and Dysrhythmia.
Seth Glier Releases Timely Environmental Call To Action with New Single/Video "Rise"
"Efforts to fight climate change are quite often about saying no," said Seth Glier. "Rewilding is different. It is about saying yes. In some places rewilding might look like putting the bends back into the river before it was straightened for agriculture so fish and ducks can build their nests and lay their eggs in the calmer water. In other places rewilding might mean reintroducing missing species. Rewilding requires human beings and communities to be in concert with nature; not just managing it, but activity participating in restoring the ecosystem that supports all of us. Imagine every national park connected by wild corridors so predators like bears and wolves could migrate freely across North America and be able to return to the places they have too long been estranged from."
Southern artist DANIELLE HOWLE shares first single from her Kill Rock Stars debut
Known for captivating audiences with her stunning vocal ability, contagious energy, and seasoned songwriting skills, Howle's music ranges from country-swamp-blues to Americana with country, southern rock and folk influences. Over the years, she's been compared to Patsy Cline, Nina Simone. and writer Flannery O'Connor. The New York Times called her "an extraordinary mind, a southern storyteller with a gorgeous sense of melody that should be pouring out of stereos everywhere," and Newsweek wrote, "Howle sounds as soothing as Karen Carpenter, as graceful as k.d.lang and as Saturday-night worn as Patsy Cline."
Satchy Shares New Single "Easy" and Announces Overflow EP on EveryDejaVu Records
Musician, songwriter, and producer Satchy announces Overflow is due for release on September 1st via EveryDejaVu Records. Along with the announcement, Satchy shares new single "Easy."
Satchel Brown a.k.a Satchy is a genre-bending musician, songwriter, and producer based in Pasadena, CA. He has worked with acts such as: Zulu, Eyedress, Hana Vu, Ade Hakim, Schwey, and Dende; and received critical acclaim from FLOOD Magazine, Brooklyn Vegan, Afropunk, Lyrical Lemonade, & more. Satchy's music has garnered millions of streams worldwide with standout tracks Comfort & ILY. Most recently, Satchy's song freetime with Schwey was featured on season two of STARZ' Run The World.
Featured in Times Square Singer/Songwriter and Advocate New Single
Indie artist Lucy & La Mer releases her latest alternative pop single, "Ice Cream". The popular creator is known for her positive content and mental health advocacy.
MICHAEL LINGTON UNVEILS OFFICIAL VIDEO FOR #1 HIT "MOON GODDESS"
"I'm very passionate about 'Moon Goddess' and super excited to share this video with my fans – I'm so grateful for them," says Michael Lington. "I wanted the video to capture the vibe of the song – like we're in a void and close to the moon – and Ryan Wave did so with a very classic, cinematic feel."
CHARLOTTE DAY WILSON FEATURING SNOH AALEGRA "FOREVER" OUT NOW
Toronto singer, songwriter, multi-instrumentalist and producer Charlotte Day Wilson returns to the spotlight today as a beacon of pure artistry with her new single "Forever," featuring generational R&B talent Snoh Aalegra. Tethered loosely to a warped interpolation of The Foundations' classic, "Baby, Now That I Found You", Day Wilson's lush vocals drift in and around a melancholy beat and ethereal piano, like smoke slowly sauntering from a candle just blown out. "Forever" also highlights the vulnerable songwriting and impeccably layered production that make Day Wilson a well-respected peer and coveted collaborator. Aalegra joins in powerfully, as the two lament not being able to create the space to hold onto a deeper and potentially impossible love.
RISING BRONX PHENOMENON SHA GZ SERVES UP POWERFUL NEW TRACK "WHY" OUT TODAY
New Single From On These Streets: While Time Remains (Breath) Video Streaming Now
Following the release of their debut cut this past winter, the Philadelphia project ensemble On These Streets has dropped its second single and video for the song "While Time Remains (Breathe)."
Korean-New Zealander, Milky Day, releases IMPULSES EP
An EP that was primarily written during Covid isolation; Impulses is not only a reflection of internal conflict and struggles, it's also a project written from the perspective of Milky reflecting on all the craziness of the world, from the "window" of his trapped environment.
Orla Gartland Premieres Visual for "Kiss Ur Face Forever"
"My latest single 'Kiss Ur Face Forever' is about being in love and split down the middle by it; one side embracing it full throttle and the other side like some evil cynical twin trying to ruin it all," shares Orla. "It felt only right to mirror that meaning in a crazy parent-trap esque music video, with both sides of myself fighting it out in the karaoke battle of a lifetime."
Blackened Thrashers GRAVERIPPER Premiere "Premeditated" At Heavy Blog Is Heavy
The new single "Premeditated" from Blackened Thrashers GRAVERIPPER is premiering now at Heavy Blog is Heavy. The track lands ahead of their upcoming album Seasons Dreaming Death set to be released on vinyl, CD and cassette via Wise Blood Records on August 25, 2023.
Hallie Spoor Shares New Single "Julia" via The Blue Grass Situation | 'Heart Like Thunder' Out 10/17
Following the announcement of her lead single "Diamond Ring" and new EP, Heart Like Thunder, due October 17th, Hallie Spoor is back with a new track titled, "Julia".
NEWS: Damian Lazarus Announces Day Zero Tulum Lineup ft Black Coffee Tulum Exclusive, Skream, WhoMadeWho, DJ Tennis + more
Each year, Damian Lazarus and the multi-faceted team behind Day Zero Tulum set out to produce the wildest party in the world. Positioned amongst the ritualistic history of the Mayan people and a future-forward understanding of modern hedonism, the festival sits at the apex of what a rave can be. Today Damian Lazarus has announced the full lineup for Day Zero, returning to the transcendental jungles of Tulum on January 12th.
WATCH + SHARE: Lil Tjay – "Nobody" Official Video + "222: Epilogue"
VOLUME Release New Single "Habit"
Psychedelic rockers VOLUME have released their new single "Habit". The single is from their upcoming 20th Anniversary release of Requesting Permission To Land which will be out on vinyl on October 27th, 2023.
New Student Fitness Resource for skopemag.com
We found these survey results very telling at Garage Gym Reviews, so we worked with a certified personal trainer and nutritionist, Rachel Macpherson, to create a guide for Staying Fit in College to help find tangible ways to develop and maintain an active lifestyle.
Noname announces North America tour + new album 'Sundial' out now
The Sundial tour follows Noname's Sundial Block Party last week in her hometown neighborhood of Bronzeville, Chicago. The block party was free to the public (with a suggested book donation) and included entertainment for all ages featuring: face-painting, bouncey houses, Double-Dutch competitions, booths for local activist organizations and performances by Noname, Navy Blue, Alex Vaughn, as well as a surprise set from Chicago's very own Common.
MADI COLVILLE-WALKER SHARES NEW SINGLE 'YINYARR MULANA WINYARR' AS PART OF SINGING OUR FUTURES PROGRAM
Marking the third sublime single released in conjunction with the Singing Our Futures program, aka The Archie Roach Foundation's mentoring experience helping emerging First Nations artists on their songwriting and recording journeys, the glistening new track Yinyarr Mulana Winyarr from Yorta Yorta artist Madi Colville-Walker is a warm and calming ode to home and country, and it comes off the back of Colville-Walker picking up the coveted Archie Roach Foundation Award at the NIMAs, alongside a performance of the single at the awards, accompanied by Allara Briggs-Pattison on double bass.