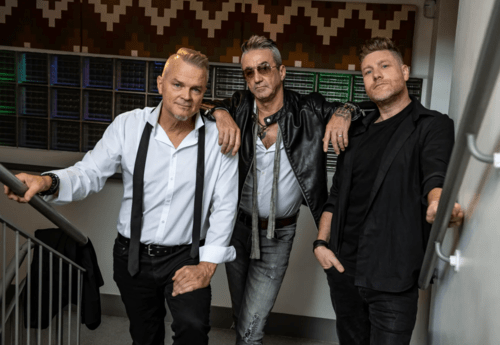 Stepping onto the stage with electrifying force is Aliens Don't Ring Doorbells (ADRD), an enchanting pop-rock fusion, that have been captivating us with their sound for the last couple of years.
As the anticipation continues to grow for their second album, poised to grace our ears later this year, ADRD unveils their latest creation, 'Amanda'. Adorned with glistening guitars, spirited basslines, invigorating drum cadences, and harmonious layers of vocals, 'Amanda' is a sonic tapestry that once again builds on anthemic atmospheres.
With a burst of brilliance, ADRD entered the scene in 2020 with their debut masterpiece 'Arrival', quickly winning over fans and highly positive reviews, that solidified their position as an exciting emerging talent in their genre.
Their impact reached undeniable heights in the US, as anthems like 'Daylight' and 'It's Your Night' soared towards the upper heights of the Billboard Adult Contemporary charts. The momentum surged with 'Hello 2 You', the spearhead of their forthcoming sophomore album, ascending triumphantly to the Top 30 realm of the Billboard Adult Contemporary charts in 2022.
'Amanda' follows on from the uplifting anthem 'Are You Crazy', which helped champion Mental Health Awareness Month in May, 'Amanda' stands tall as a testament to the musical chameleonic abilities of ADRD.
ADRD's artistic kinship with Roy Stride of Scouting For Girls continues to grow, having toured with the band in 2021, his production finesse graces both 'Amanda' and previous single 'Big Old Nowhere'.
As the vibrant rhythms of 'Amanda' herald the imminent arrival of their sophomore opus, Aliens Don't Ring Doorbells continue to captivate audiences with their magnetic melodies and captivating stage presence.
https://www.instagram.com/aliensdontringdoorbells/
https://twitter.com/aliensdrd
https://www.facebook.com/aliensdontringdoorbells