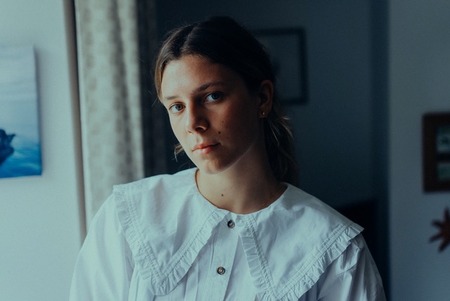 @skopemag news – friday – july 28, 2023 @ 9 am est
https://www.facebook.com/SkopeMag/
https://twitter.com/skopemag
https://www.youtube.com/@skopetv2
https://www.instagram.com/skopemag/
APP – Apple iTunes –
https://itunes.apple.com/app/id1465224822?mt=8
@skopemag APP – Google / Android –
https://play.google.com/store/apps/details?id=hr.apps.n207414718
Support @skopemag –
https://www.paypal.com/donate/?hosted_button_id=3APKAKT8K6ETW
Classical Guitarist EMMA RUSH Releases New Album "A Dream Of Colour" Inspired By Painter William Blair Bruce
Highly renowned Canadian classical guitarist Emma Rush is set to captivate audiences with the release of her latest album, "A Dream of Colour" is inspired by the life and works of impressionist painter, William Blair Bruce. Collaborating once again with her long-time producer Kirk Starkey, Rush recorded the album in her hometown of Hamilton, Ontario.
Moffa Releases New Single "Fechorías" With Juanka & King Savagge
The young Puerto Rican artist on the rise, Moffa, releases new banger "Fechorías" alongside Chilean artist King Savagge and Puerto Rican artist Juanka. Using R&B and Reggaetón elements for the beat, each artist brings their unique voices to the forefront to create the perfect track for a night of fun antics, resulting in a "a smash for Puerto Rico and Chile."
OFFSET UNVEILS "JEALOUSY" FT. CARDI B – THE FIRST SINGLE FROM HIS FORTHCOMING ALBUM
REMBLE RELEASES INFECTIOUS NEW SINGLE "WHERE'S REMBLE?"
"We're having escargot, you know," Remble spits over an angelic xylophone hook and addictive beats, adding: "Those Percocets are gonna wear off, you know — they only get along because they share ops, you know." The playful yet potent wordplay finds the rapper channeling various points of view, skewering the L.A. hip-hop scene with the skill of surgeon. In the video, Remble remains elusive while fans, friends, and foes summon a search party to find him. It's a reminder that Remble is relevant everywhere he goes.
SARCASTIC SOUNDS SHARES NEW SONG "SOMEDAY SOON"
THE CHAINSMOKERS HEAT THINGS UP IN NEW SINGLE AND VIDEO "MY BAD" WITH SHENSEEA
Most recently, The Chainsmokers were featured on a special track with Latin music heavyweights Nicky Jam and Maluma called "Celular," marking their first ever Latin collaboration. "My Bad" also follows the release of "See You Again" with ILLENIUM and Carlie Hansen, "Self Destruction Mode" with bludnymph, and "Up & Down" with 347aidan.
TRAVIS SCOTT'S UTOPIA, THE MOST ANTICIPATED ALBUM OF 2023 OUT NOW
The world of UTOPIA finds Travis Scott at the height of his powers as a performer, songwriter, producer, and collaborator proving once again that nobody sounds like Travis. It continues to enshrine him as the culture's foremost sonic innovator, levelling up beyond comparison. Ahead of the album release, Travis Scott, brought together some of the music industry's biggest superstars for the single "K-POP," with Bad Bunny and The Weeknd, watch the music video HERE.
US Metal Rock Project Ever Doubt Presents "My Betrayal" Single & Video
New Music: Irish Singer Songwriter Holly Munro (Sister to Hudson Taylor) Releases Captivating Pop Single 'Give Yourself Love'
Based in Dublin, Holly Munro is a songwriter who creates electronic infused folk-pop songs. In an unusual position, Holly is releasing her debut single under this name with an already extensive touring schedule under her belt. Her distinctive sound has earned her appearances at festivals like All Together Now and Electric Picnic, as well as opening slots for acts such as her siblings Hudson Taylor. This great family connection has led her to playing shows across Canada, UK, and Europe, crafting a legacy for herself before even releasing a song under this name. With this single also comes an artistic video shot in Ireland. Holly's education, consisting of a degree in Interdisciplinary Arts from her time spent studying in The Netherlands and a Diploma in Augmented and Virtual Reality, has led her on a creative path where the visual elements she puts out are as important as the music itself.
OUT NOW: Sara Fjeldvær – Come Undone (FFO Susanne Sundfør, Ane Brun, The Weather Station)
Norwegian songwriter Sara Fjeldvær returned at the end of June with "Meant To Love", the first single from her forthcoming (in 2024) second album. This new track followed the release of her self-titled debut album in 2021 and September 2022's Best Love EP.
Rising crossover talent PENELOPE ROBIN shares quirky "I Love You Boy" visuals
Expertly fusing brooding rock sounds with folk elements and a pop sentiment, "I Love You Boy" shows a softer and more vulnerable side to the rising Latina, who artistically offsets her previous fiery efforts "Taking Back Sunday" and "Animal" by diving into the complexities of relationships and personal vulnerability in her latest pop gem.
DJ & PRODUCER LIAISON SHARES NEW SINGLE 'LOVE WILL TAKE YOU HIGHER'
JACK VALERO SHARES THE NEW SINGLE 'CATCH MY SOUL'
Since signing to Modern Sky (Lottery Winners, Slow Readers Club, Jamie Webster) and unveiling his live band, Jack Valero has hit the ground running. His recent singles 'Temporary Helplessness' and 'Pull Back The Hammer' have powered up with a bigger, energising live sound without losing any of the astute, poetic lyricism of his initial releases – and that shines through on stage too, as shown by recent Glastonbury sets at the Greenpeace Stage and the Avalon Cafe.
Waiting For Smith – Let Light In
Recorded in a studio in South Africa, and enhancing the track's sentiment of embracing love, the single see's choir contributions from members of Iowa, a local township, sourced by Waiting For Smith himself. Produced by Danton Supple, whose contributions have acquired 3 Grammy wins, 5 nominations and widely recognised for his work with Coldplay.
Out Today: Prog-Synth-Rockers Kyros Release Explosive New Single 'Illusions Inside (Feat. DMNIQ)' Via White Star Records
Critically acclaimed UK progressive alt-rockers Kyros return with the expansive new single 'Illusions Inside (Feat. DMNIQ)' (July 28th).
Alt-Rock Quartet The Haunt Challenges Seeking Validation in New Single "Ok"; New EP out 9/8
"'OK' is a lot to unpack, but the most important line of the song to me is, 'they say, you'll still be art without being admired… whoever said that is just a fucking liar.' It's sad to hear myself sing that, but the truth is that I have always really struggled with loving myself. It makes it easier when you're in a relationship and getting that attention and energy from someone else. When you lose that it can feel like this void. You should be able to feel whole without other people there to validate it. This song is also about how toxic relationships can alter your perspective of yourself and make you want to change to be more of what someone else wants. A new haircut or losing weight really isn't gonna make someone like you more," exclaims Anastasia.
Indie Band 'bellhoss' Drops Latest Single 'Better Now'
Denver indie band 'bellhoss' release their latest single 'Better Now'. With a sound reminiscent of Waxahatchee, ALVVAYS, and Soccer Mommy, bellhoss sits in a purgatory between folk and DIY punk.
ZAE FRANCE SETS THE MOOD FOR SUMMER WITH NEW SINGLE "GIVE IT UP"
Today, Zae France releases his new single and visual for "Give It Up," out now via Def Jam Recordings/Compound Entertainment. The sonically smooth single sets the stage for Zae's forthcoming project Rhythm N Backwoods Szn II — out later this year. Rhythm n' Backwoods Szn II follows his 2019 LP, Rhythm N Backwoods, and showcases Zae's unique style of lyricism, structure, and layered vocal harmonies.
TERRACE MARTIN SHARES NEW ALBUM "CURLY"
Grammy®-nominated artist and producer Terrace Martin unveils his newest project, Curly, the second of what is to be a series of six jazz albums set to be released throughout 2023 via the Sounds of Crenshaw / BMG partnership. As curator and producer on all forthcoming albums, the music serves as a continuation of legacy for both Martin and the genre of jazz music. Curly holds an especially pointed significance: "This is a body of work that represents the spirit of my father," Martin explains. "Curly represents courage, heart, and adventure."
Trois Rivières' Alt.Rockers AROUND JOSHUA Celebrates Love In "Baby Stardust"
Circus Anthem of Dreams, New Dark Alt Pop Sadye
Sadye transcends the limits of experimental and mainstream alt-pop, challenging listeners and breathing new life into the genre with otherworldly mystique and uncompromising vision. From humble beginnings as a small town singer/songwriter, Sadye writes with depth and heart, often taking on unexpectedly dark and heavy themes. Inspired by her intense struggle with cancer, discovering self-worth, and dealing with toxic relationships, her lyrics are steeped in a sarcastic form of catharsis as she learns to love her literal, and figurative, scars; a theme beautifully juxtaposed by catchy, modern melodies and edgy pop production, appealing to fans of Kim Petras and Charlie XCX to Nine Inch Nails and The Weeknd.
NPR + BET Acclaimed Grammy-winning musician new album
Nite Bjuti [pronounced Night Beauty] is a trio of Black women artists who weave multiple strands of storytelling using voice, bass, electro percussion, turntables, Haitian drums, dance and visual projections to rediscover the buried Diasporic beauty in the world, transcendent across generations. The name draws from a centuries old Haitian folklore called "Night Beauty," about a girl whose bones begin to sing in her afterlife, her spirit seeking justice. On this eponymous album, singer/songwriter Candice Hoyes, bassist Mimi Jones, and GRAMMY® Award-winning soundchemist Val Jeanty publicly animate narratives centering Black women across time ranging in subject matter from vodoun, sisterhood, sexual expression, reproductive freedom, magic, and the politics of respectability with archival resources ranging from the letters of Zora Neale Hurston, to the iconic Kitchen Table Series by Carrie Mae Weems.
Just dropped > ArrDee & Bugzy Malone 'One Direction'
Two of the UK scene's best loved rappers, ArrDee and Bugzy Malone have joined forces for the track of the summer, 'One Direction' out on 27th July.
Ewan Macfarlane makes a bold return with new single 'You're Wasted On Me'!
The first single from his much-anticipated fourth studio album, 'Fade Out the Fear', sees Macfarlane in tremendous form, sounding as fresh as ever channelling Richard Ashcroft meets Paolo Nutini in an MC Battle.
David Guetta & MORTEN team up for smash new Future Rave single 'Something To Hold Onto' ft Clementine Douglas
This global duo return in style on this Future Rave club banger, combining stunning vocals with captivating house strings and electrifying tones. Featuring a roof-raising lead performance from Radio 1's 2022 Dance Awards Vocalist of the Year, in-demand songwriter Clementine Douglas, 'Something To Hold Onto' is guaranteed to send sparks flying on the dancefloor. To witness it yourself, you can catch the Future Rave duo every Friday at their Hï residency in Ibiza, with the single launch event taking place on 28th July. The pair are in peak form, having recently wowed the crowd at Brooklyn Mirage in New York with their iconic headline show.
The Clientele share lyric video for "Lady Grey"
Bristol dream-pop outfit Oslo Twins release debut EP "Back to Nothing" via Fascination Street Records
Bristol born dream-pop outfit Oslo Twins today release their debut EP 'Back To Nothing' via Fascination Street Records – a new label founded by producer Ali Chant (Yard Act, Perfume Genius, Aldous Harding, Katy J Pearson) in partnership with Bristol's Factory Studios.
ADEKUNLE GOLD RELEASES NEW ALBUM 'TEQUILA EVER AFTER' VIA DEF JAM RECORDINGS
Adekunle Gold releases his debut album for Def Jam Recordings, Tequila Ever After. The album includes previously released singles "Party No Dey Stop," "Ogaranya," and the tracks from his EP Tio Tequila that came out earlier this year. The 17-track album features production from frequent collaborator Kel-P and Labrinth as well as features from Nigerian singer Zinoleesky, Texas superstar Khalid, legends Pharrell Williams and Nile Rodgers in addition to Gold's wife Simi.
Rosie H Sullivan releases new single 'Fragments' from upcoming EP
Scottish singer-songwriter Rosie H Sullivan uncloaks new track 'Fragments' out July 28th via Nettwerk.
Closely following her debut EP 123° East out earlier this year, Rosie H Sullivan unveils the tender new single 'Fragments' – the first piece to the puzzle of what will make up her subsequent new EP out this autumn.
Ariel Posen Releases New Single "Didn't Say,"
Posen started working on Reasons Why at the beginning of 2020, and the COVID lockdown provided an unintended creative boon to his work. The songs certainly reflect the extra time and care they were given: from "Man You Raised" and "Time Can Only Tell" to the funky drive of "I Wish That We Never Met," the modern textures of "Broken But I'm Fine" to the heart-rending sentiments of "Learning How to Say Goodbye" and "Feel This Way Too" (co-written with Leith Ross, along with "Choose"), and the melodic sweep of tracks such as "Always Moving On" and "Didn't Say."
TEN TONNES releases 'Dancing, Alone' LP | out today via ABSOLUTE
Spawning acclaimed lead singles including pop smash 'Monday Morning', frenetic recent effort 'Drowning In The Deep End', and its disco-infused title-track, 'Dancing, Alone' showcases Ten Tonnes' anthemic sensibilities in full force and certainly reinforces his status as one of the leading figures within the indie landscape.
ASHNIKKO UNVEILS LATEST SINGLE "CHEERLEADER" OUT NOW
"Cheerleader" is a siren song about modern beauty standards, undercutting imagery of a poised, pom-pom waving poster-girl with blades, blood stains and broken faces. Like a funhouse mirror it warps the infamous cheer from the opening scene of the early 2000's movie Bring It On into a critique of our cultural obsession with perfection.
Billy Raffoul Announces New Album, 'For All These Years,' out 10/20
Nashville/Toronto soulful singer, songwriter, and producer Billy Raffoul is excited to announce his new full-length album, For All These Years, which will be out on October 20 via Nettwerk. For All These Years came to life with the help of long-time collaborators Justin Zuccato, Mike Crossey and is a much-anticipated introduction to the next chapter of Raffoul's artistry that continues to highlight the graceful grit of his vocals and his knack for telling stories straight from the heart.
Caroline Romano Reveals New EP, 'A Brief Epic'
Nashville-based alt-pop sensation Caroline Romano reveals her new EP, 'A Brief Epic.' The 6-track project includes past singles "This House," "Guts" and "Mississippi Air," as well as three previously unreleased tracks: "St. George," "Heartbreak You Can Hear" and "Then I Woke Up."