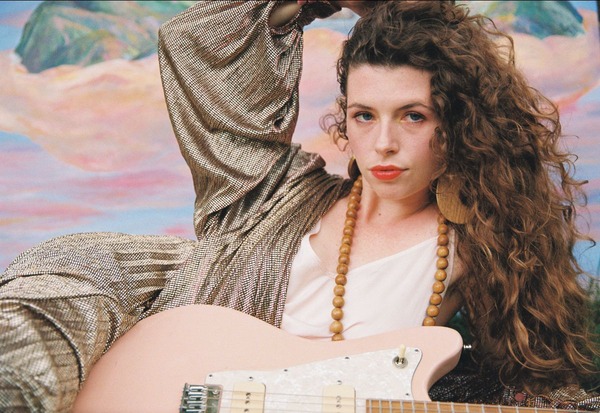 @skopemag news – wednesday – july 26, 2023 @ 12 pm est
https://www.facebook.com/SkopeMag/
https://twitter.com/skopemag
https://www.youtube.com/@skopetv2
https://www.instagram.com/skopemag/
APP – Apple iTunes –
https://itunes.apple.com/app/id1465224822?mt=8
@skopemag APP – Google / Android –
https://play.google.com/store/apps/details?id=hr.apps.n207414718
Support @skopemag –
https://www.paypal.com/donate/?hosted_button_id=3APKAKT8K6ETW
Pip Blom Shares New Single ft. Personal Trainer / New Album Out Oct 20 via Heavenly
Pip Blom have today shared "Kiss Me By The Candlelight", the latest track to be taken from their forthcoming third album Bobbie which is released on Heavenly Recordings on October 20.
Chloey Rose delivers powerful anthem for walking away from an unhealthy relationship, 'Shot You Down'
Delivering powerful pop songs with a theatrical twist, Chloey Rose has been captivating audiences at major venues up and down the UK and in Europe with her dramatic, soaring vocals that have attracted comparisons to Adele and Paloma Faith.
Drawing inspiration from Kate Bush and Taylor Swift, Chloey has just released brand new single 'Shot You Down', an edgy pop ballad full of dark sounds that could become the theme tune for the next James Bond Movie.
ETHEREAL TOMB Announce Doom Album When The Rivers Dry
ETHEREAL TOMB deliver a poignant message throughout When The Rivers Dry. Shrouded in a gloomy storm of anguish filled harsh vocals and thundering distorted instruments, the album's title track illustrates the intrinsic links between capitalism and colonialism. The oppressor's greed and forced ecocide extends to not only indigenous nations, it will eventually affect everyone. "Victim Mentality" unleashes a sombre, slow pace through its weighty rhythms before building intensity to a dark end, while "Reclamation" brings an aggressive onslaught of descending rhythms and crashing cymbals. When The Rivers Dry draws to a close with the haunting drones of "The Sufferance of Mourning". Foreboding rhythms and soaring lead melodies produce a stark contrast.
Detroit Rapper FMB DZ Pays Tribute To His Fans in a New Video
FMB DZ worked his way from the streets of Detroit to the top of his city's rap scene with no-nonsense bars. Offering practical advice to those trying to follow in his footsteps, DZ shares "Dear Fans," the latest video from his recent album P-Rock Baby. Sending a message to his most loyal supporters, DZ lets everyone know what time it is, revealing that the secret to his success is always keeping it 100: "Never been a yes man, always had the best hand," he says. In the video, the Plymouth Road resident mobs with his closest friends, showing his fans and the rest of the world how they roll in the 313.
VERMILION WHISKEY: Decibel Magazine Premieres Video For "The Get Down"
VERMILION WHISKEY have dropped their new video "Confidence". The song is from their album Crimson & Stone which was released earlier this year.
The band comments: "The Get Down" is as true Southern-fried rock n' roll as it gets. This track is for the folks back home. A testament to the Cajun way of life, love and the pursuit of absolute happiness, and tells the story of why Vermilion Whiskey is straight up, unapologetic, south Louisiana rock n' roll at its finest."
Kassa Overall premieres music video via Talkhouse and expands 'Ready To Ball' world tour
Grammy-nominated alternative jazz drummer, producer, and rapper Kassa Overall today unveiled a new music video for "Going Up," the final track on his newly released Warp Records debut ANIMALS.
Teddy Thompson Shares "I Don't Love You Anymore" | New Album 'My Love Of Country' Out August 18
"Country music has been inescapable for me, a recurring theme. At the age of 10 or 11, that's the first thing I heard where my ears pricked up and I'm like, 'Oh, this is music? I like this,'" says Thompson. "In fact, the second single from the album, has two of the best lines ever written, 'I don't love you anymore, trouble is, I don't love you any less.'"
Monsta X's SHOWNU & HYUNGWON Release 1st Joint Mini Album
Eight years after MONSTA X's debut, the group presents their first unit, SHOWNU X HYUNGWON, with the release of their first mini album 'THE UNSEEN.' The album captures the two members' special synergy through HYUNGWON's producing, SHOWNU's choreography and their combined vocals. 'THE UNSEEN' is ultimately about SHOWNU X HYUNGWON's way of loving and becoming the person you love. The words we say, the actions we show in reality and the gaze that changes depending on the viewer; all create another interpretation of us and another new side of 'ourself'. Countless gazes create who we are. Sometimes we get confused about who we really are, but the 'me' in the eyes of others is also still 'me'. The version of 'me' that you love is a part of who we are and we will keep trying to become that person you love.
Beautiful New Song // Zola Courtney – "California"
Credible British Songwriter Zola Courtney shares an incredibly heartswelling moment and single called "California." With vocals and writing that swoon, It's a song fitting for an epic movie montage where flashing memories turn into poetic music between that post-break-up 'what have I done' and the affirmation phases.
Achings Release New Video From "All These Shapes, All These Days" on LandLand Colportage – Album Service
LandLand Colportage recently put out an EP from Achings called All These Shapes, All These Days and now the band is back with the brand new video for "Abdication, Planet Earth" (see Punknews premiere) Here's the video from the new album that you can post along with an album stream/download for promotional purposes
Korean-New Zealander, Milky Day, releasing "Losing My Grip"
Ursa Major Revelation (mem. Bear Hands) Announce Debut EP, Shares "Tar Pits" Single + Video via EARMILK
Today, Ursa Major Revelation (helmed by songwriter/vocalist Ursula Rose and guitarist Dylan Rau of Bear Hands) make their official debut with the announcement of their debut EP, Big Baby (out October 17), and celebrate the project with its first single drop, "Tar Pits," alongside an accompanying self-directed video.
J'CALM RELEASES "TEMPTED" MUSIC VIDEO // ADDED TO OBAMAS SUMMER PLAYLIST
"Tempted" gained success through Tiktok. With over 5 million views across J'Calm's TikTok posts, fans took the track to the next level by making dance content, covering the song and using it in their day to day vlogs.
New Video: FMB DZ has a message for his supporters w/ "Dear Fans"
Today, FMB DZ delivers the visual for his track, "Dear Fans," off his album P-Rock Baby. The recent project spans13 tracks, and gets its title from the local term for Plymouth Road, or P-Rock, in Detroit that runs from the heart of downtown out to the suburbs.
Detroit Legend Paradime Announces New Album "Period." On Mello Music Group | Unveils Title Track Music Video
The first single from Paradime's forthcoming album, "Period." is a reminder of who the legendary rapper is over hard-hitting piano-driven Detroit production. Similar to the album, Detroit is a major theme of the single. "The single Period draws heavily from Detroit. Lot's of Detroit references, it is in every piece of the album.. The city is my home and the Detroit hip hop scene has been my life so saying my shit is "Detroit" says it all," Paradime explains.
The Western Civilization – "Fool" single
Austin indie rock outfit The Western Civilization just released their new single, Fool, on July 21st. The new track – featuring lead vocals from both Rachel Hansbro and Reggie O' Farrel – is taken from their forthcoming full-length, Fractions of a Whole, which is due out on October 20th. It's the band's first record since 2015.
KIWAT KENNELL SHARES NEW SINGLE 'DISCONNECTED' AS PART OF ARCHIE ROACH'S SINGING OUR FUTURES PROGRAM
Another stunning single released in conjunction with the Singing Our Futures program, aka The Archie Roach Foundation's mentoring experience helping emerging First Nations artists on their songwriting and recording journeys, the powerful new track Disconnected (and accompanying live music video) from Torres Strait Islander artist Kiwat Kennell is a warm and wondrous ode to yearning for deep connection.
Jianbo Shares New Single 'Play Your Part', co-produced by Congee
Today, rising rapper Jianbo is pleased to share the video for new single 'Play Your Part'. It marks his third single of the year, following 'Home is Where the Food Is' featuring BABii and 'Chinatown Trouble' which both saw regular airplay across BBC Radio 1, 1Xtra and 6Music.
LYNKS RETURNS WITH NEW SINGLE + VIDEO "USE IT OR LOSE IT"
Hannah Wicklund releases new single 'Witness'
Acclaimed singer, songwriter, visionary and fierce guitarist Hannah Wicklund has released her new single 'Witness'. A deeply personal song about claiming heartbreak, embracing it and using that to heal through some of the toughest times in life. It is the latest song to be taken from her forthcoming album, The Prize, out October 13th via Strawberry Moon Records.
KID APOLLO enlist dexter in the newsagent for new single "fantasise" – new EP 'In Your Own Right' released today
Brixton, London trio kid apollo have released their new single "fantasise" ft. dexter in the newsagent. The new single arrives alongside a self-directed video – shot in June this year in south east London – which finds kid apollo building a motorbike with dexter in the newsagent in the space of one day.
HANNAH GRACE triumphantly captures her 'make or break' moment in new Devoted EP – out today
Behind the EP's personal themes which explore having patience with life and love as well as remaining optimistic during hard times, Devoted initially started as somewhat of a 'make or break' moment for Grace – putting the project together in the midst of professional hardship, where she wasn't sure if she even wanted to be in the spotlight anymore. However, Grace's passion was reborn after persevering and, step by step, she independently took on all elements of Devoted's overall production to bring the final body of work together.
Duff McKagan shares new song; new album out Oct 20
"I picture him as an old guy with white beard and hair, leaning up against a wall on a city street," says Duff McKagan. "The ultimate jurist of us all. Pissed off, squinting eyes to ward off what he sees, spitting frequently with no care for who may be around. The Creator. God. Allah, Shiva…or whomever. I think I see him sometimes over on 10th St., hands in tight fists, and toes curled up and tense."
ĠENN release 'Calypso' single | Debut LP 'unum' Oct 6
Anglo-Maltese quartet ĠENN reveal new single 'Calypso' today. Debut album unum is out October 6th through Liminal Collective.
'Calypso' is the most understated cut from the record so far. Dreamy guitars underpin vocalist Leona Farugia – who barely raises her voice above a whisper. Resonating sax lines add to the oneiric atmosphere, before cymbals crash into life during the latter half – still only ever heard at a distance, so the effect is psychedelic and symphonic, rather than caustic.
J.B.T Shares New Mixtape Burn Szn II: Higher Learning
J.B.T, the rising star from Melbourne, Australia, has unveiled his highly anticipated mixtape, Burn Szn II: Higher Learning. With a unique blend of hip-hop, R&B and pop, J.B.T's infectious sound has captivated audiences worldwide, solidifying his position as a promising talent in the industry.
Glen Hansard Announces New Album 'All That Was East Is West Of Me Now'
Glen Hansard is set to release his fifth solo record 'All That Was East Is West Of Me Now' on October 20. It will mark the singer songwriters first record in over four years and follows a period that found Hansard moving between collaborative work with Eddie Vedder and Cat Power to live performances with The Frames and Markéta Irglová/The Swell Season. The effect of which helped give direction to 'All That Was East Is West Of Me Now', a record that is by all turns noisy and meditative, sprawling and hypnotic, Hansard's most rock record since Burn the Maps-era The Frames.
SKINNY LISTER — Release Official Video For: "Company Of The Bar" || + New Album Out 20 Oct
Lifted from what will be the band's sixth studio LP, 'Shanty Punk' (out 20 October), the lead single is now accompanied with a head-spinning video shot in the band's old boozer of choice — The Forge & Flagon – a garden shed that has been innovatively converted into a traditional pub complete with tankards, pumps, a wood burner, dart board, horse brasses and all manner of other kinds of trinkets. A venue that has loomed large in the history of the band, frontman Daniel Heptinstall explains:
GLEN HANSARD announces new album 'All That Was East Is West Of Me Now'
Glen Hansard is set to release his fifth solo record 'All That Was East Is West Of Me Now' on October 20. It will mark the singer-songwriter's first record in over four years and follows a period that found Hansard moving between collaborative work with Eddie Vedder and Cat Power to live performances with The Frames and Markéta Irglová/The Swell Season. The effect of which helped give direction to 'All That Was East Is West Of Me Now', a record that is by all turns noisy and meditative, sprawling and hypnotic, Hansard's most rock record since Burn the Maps-era The Frames.
MCKINLEY DIXON CLOSES HIS KITCHEN TABLE SESSIONS WITH "DEDICATED TO TAR FEATHER" VIDEO
YTB Fatt shares "Backstabbin" single + announces 'Who Is Fatt?' mixtape
"Backstabbin" is the third consecutive single from in Fatt's string of "Fatt Tuesday" releases, leading up to his upcoming mixtape Who Is Fatt. The mixtape is home to recent singles like "Bet I Whip It" ft. Rob49 (500K+ YouTube views in a week) and "Us" featuring his Bread Gang label mate Big Homiie G (1M+ YouTube views in two weeks). Featuring a guest appearance from his mentor Moneybagg Yo, the red-hot Who Is Fatt mixtape is out coming soon via Loaf Boyz Ventures/10K Projects.
NIXIL: Baltimore Black Metal Outfit Shares New Video/Single, "Abyss Unto Abyss;" Second Album, From The Wound Spilled Forth Fire, Nears Release On Prosthetic Records
Submission for Skope Magazine, from Melanie A. Davis
'Honey Locust' is Davis' third full-length album, and set to release on August 4th. It's a tongue-in-cheek reflection on the concept of artistic notoriety — a glimpse behind the curtain to reveal piles of dust and petrified insects behind the glittering lights of the marquee.
Ahmen Unveils AI-Crafted Music Video for "OD" Off New Album, Per Aspera Ad Astra
Ahmen, known for inspiring personal growth and collective social change, has released an AI-generated music video for his track "OD" off his new album, Per Aspera Ad Astra. The album, which translates to "through hardships to the stars" in Latin, has already garnered significant attention from outlets like Music Connection Magazine, EARMILK, and Honk Magazine for its thought-provoking messages, lyrical prowess, dynamic beats, and Ahmen's unwavering commitment to driving societal change. The music video for "OD" is now available on YouTube.
ON THORNS I LAY Hit New Heights on First Advanced Single