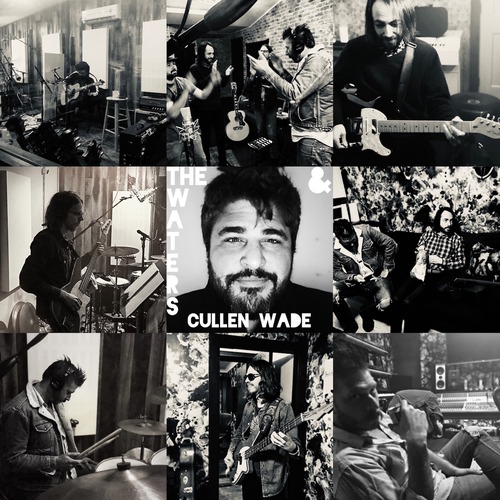 The song "Surviving," off Cullen Wade and The Waters' self-titled debut album, takes on new meaning as he sings about a girl that wants to live, not just survive. That was too true for all of us, after approximately two years of pandemic life. At first, yes, as the body bags were piling up outside the hospitals, survival was good enough, thank you very much. But eventually, we all just wanted the opportunity to truly live again. Knowing how Wade and his band recorded this album – at least partially – during the pandemic, one imagines he had some of these same survive/thrive thoughts while creating this song. It's one of many fine songs on this 12-song effort.
Then again, other songs on the album would fit into just about any human era. One titled "Old Habits," for example, examines character flaws one person desperately wants to change. Such changes are difficult to put into place because the reason why they're referred to as 'old habits' is because they've been practiced for a long, long time. He sings, "Honey, I know," when examining himself. This 'honey' is presumably his wife or lover. She's also most likely the one that wants to see him better himself. It's good, though, that this person in his life is a prime motivator for self-improvement. Sure, we can change ourselves into somebody better all by ourselves, but having someone on our side cheering us on makes it all the easier and more meaningful.
One of the album's singles, "Knocked Me Dead," is a big guitar rocker. It also finds Wade singing in a forceful vibrato. It's a powerful song about the power one person can exhibit over another. The track also features a really strong, long emotive electric guitar solo on it, which is used for the track's outro. With "Sinking Ship," however, Wade and his band give the recording more of a low key, thoughtful vibe. It may speak lyrically about a ship that's sinking, but it is done so in an understated manner. It asks the question: How long will you stay on a sinking ship? It's as if to say, well, it's obvious this ship is going down. Therefore, what are you going to do about it? Who knows who it is Wade is talking about and talking to with this lyric, but he's deadly serious, whatever the case. It may remind you of people that stay watering down their houses as a brushfire is quickly approaching. Certainly, these people know logically that they're no match for a massive fire. Nevertheless, like those on a sinking ship, they just can't give up or give in.
While much of this music is rock-infused, with plenty of electric guitar, "Pretty Good" rolls to basically an acoustic instrumental backing, including acoustic piano and guitar. It offers a nice change of pace, sonically speaking. It's also one of the album's twangier entries, which makes sense, as Wade calls Nashville, TN home.
ONLINE:
https://www.cullenwade.com/
https://www.instagram.com/cullenwade_official/
https://www.facebook.com/CullenWadeOfficial/
These days, what Cullen Wade does would be referred to in some quarters as old school. While the musicianship is topnotch, everything is reliant upon really good songs. And it's these sturdy ingredients that makes this release so very good – whether you want to term it old school or not.
-Dan MacIntosh