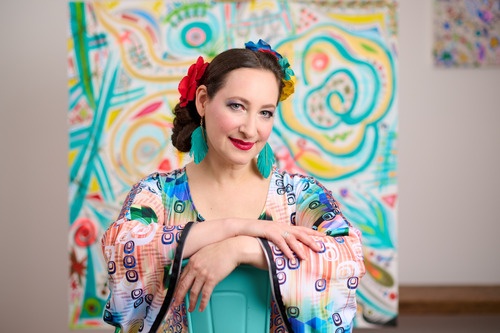 New York City's singer/songwriter Rachael Sage premiers a new playful music video for her Beatle-esque pop-rock single 'Flowers For Free,' with enriching optimism and overall childhood innocence.
To introduce and summarise Sge's new visuals, 'Flowers For Free,' it is fair to say, 'a blooming flower is a feast for the eyes,' with colorful esthetics and the songstress' elegant manoeuvres and sonic hopefulness and poignant, timeless lyricism.
The psychedelic undertones bring us back to Rachael Sage's vivid imagination of when she was a child, and everything was simpler and seemed more colorful: "I wrote 'Flowers For Free' when I was a kid, and I guess – as we do when we're young – I naturally went to a bit of a psychedelic place, exploring the concept of the stranger and whether someone offering you something in whatever context might be benevolent or have some kind of questionable motive. I was heavily influenced by The Beatles growing up, so I think sonically and harmonically that definitely comes through on the track."
https://open.spotify.com/track/3330QzS92rDstGj91FANGr?si=aecc25ef3ad4489f 
'Flowers For Free' is the newest sneak peek of Sage's upcoming album, 'The Other Side' due to be released on July 21st. Based on the record's previous singles such as 'Whistle Blow,' 'Only You,' 'Rebecca,' and the title track, it is bound to flourish with the 70s and 80s retro warmth and Sage's signature poetic life synopsis.
This August, Rachael Sage will be back on the road across the UK in partnership with the charity akt, which works to support LGBTQ+ youth homelessness. 
You can watch the premiering music video for 'Flowers For Free' out now. 
Follow Rachael Sage 
https://www.instagram.com/rachael_sage/