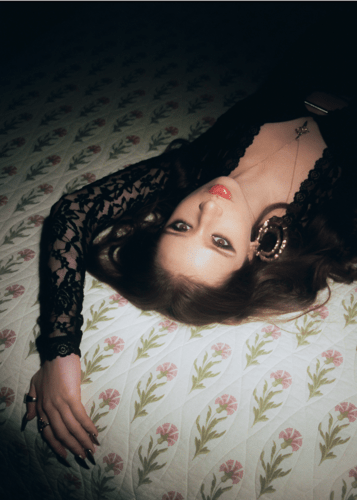 @skopemag news – friday – july 7, 2023 @ 2 pm est
https://www.facebook.com/SkopeMag/
https://twitter.com/skopemag
https://www.youtube.com/@skopetv2
https://www.instagram.com/skopemag/
APP – Apple iTunes –
https://itunes.apple.com/app/id1465224822?mt=8
@skopemag APP – Google / Android –
https://play.google.com/store/apps/details?id=hr.apps.n207414718
Support @skopemag –
https://www.paypal.com/donate/?hosted_button_id=3APKAKT8K6ETW
BREAKOUT R&B STAR LAYA RELEASES DEFIANT NEW SINGLE "F'D UP"
Featuring a bodacious beat and a wicked bassline, the infectious track casts a spell from the opening line. "Got me thinkin' 'What's good?' You don't understand what's understood," the rising star coos. "Out your face you'll say to me, some shit that you know just can't be." She then pulls the trigger on the catchy chorus: "You got me fucked up, put you on your back." In typical LAYA style, it's raw, real, and utterly irresistible.
RENOWNED CUBAN PIANIST ROBERTO FONSECA DEVOTES HIS LATEST SINGLE "SAL AL MALECÓN" TO HIS HOMETOWN
BREAKOUT POP ARTIST ISABEL LAROSA RELEASES NEW SINGLE "eyes don't lie"
"I wanted this song to create a specific feeling," shares LaRosa. "I wanted it to create that feeling of tension that happens when two people communicate just through eye contact. It's all about the thoughts behind having an unspoken connection with someone and how magnetic the unknown can be."
ROCKSHOTS RECORDS – RAINING NAILS Introduces Their Heavy Metal "Anthem" From Debut Album "Human Deeds" Out October 2023
"When Max played this track for me, I was struck by the energy it exuded. I have to say that I was afraid that I couldn't find the right words to express what the music had conveyed to me. I was thinking and thinking about what I could write, and then it was like suddenly waking up. I found myself laughing to myself and thinking, "Hey, but this song is about us!" And this "us" is not just about the members of the Raining Nails; it encapsulates the lives of underground musicians who elbow their way in so that their voices can be heard; it's about all the men and women who tread this earth and day in and day out struggle to be able to get by and survive."
Outlaw Country Music Artist Mickey Lamantia Releases Exquisite New Love Ballad, "Get On Board"
"Get On Board" is special to Mickey Lamantia as it shows a different side of him; compared to the usual rough, Honky Tonk/Outlaw songs he typically writes. Collaborating with Marla Cannon Goodman was such an honor and the end result speaks for itself.
STITCHED UP HEART Reveal New Album Details, Release Gripping New Single "Possess Me"
Rachel Burns dismantles the patriarchy on 'What a Nasty Woman' – out now!
Rachel Burns truly is a Wonder Woman, figuratively and literally. Known for satirical and humorous pop-soul-cabaret songs, the cancer-surviving mother of two has been an outspoken activist both on the streets, where for years she dressed in a Wonder Woman costume protesting the Trump administration, and in her music – using her voice as a beacon of positivity and a vessel for change. Burns brings an animated spirit and unique personality to her sophomore EP, What a Nasty Woman, a record of resilience and protesting the patriarchy while celebrating the power of feminism. Blending soul, pop, country, and more, the new EP is at once theatrical and emotionally charged, with deeper meanings embedded in every song.
Deadlight Holiday Draws Upon Anger & Isolation With "Full Of Hate"
THE PINK SPIDERS' New Album, "Freakazoid," Out Today Via Pure Noise Records
After months of anticipation, celebrated Nashville rock phenoms THE PINK SPIDERS have released their long-awaited, 5th studio album, "Freakazoid," today with Pure Noise Records. Their most memorable album in years, "Freakazoid," features anthemic power-pop infused rock jams made for summer bliss, like "Devotion" and "Gold Confetti."
In celebration of today's release, THE PINK SPIDERS have debuted a music video for their latest single "Freakin' Freakin' Out." Watch it here:
Ilona Releases Fearless New Single "Talk To My Body"
Rising dance-pop artist Ilona has released her hypnotic new single "Talk to My Body." Propelled by impassioned chord progressions and Ilona's sensuous harmonies, "Talk to My Body" is an expression of the fiery desire that comes with physically reconnecting with a partner you love. Fueled by intense fervor and longing, Ilona says the song "is about owning your emotions, and your body, and feels freeing to sing." "Talk to My Body" is now available to stream and download on all digital platforms worldwide.
Andy Frasco & The U.N. share psychedelic birthday anthem "Birthday Song"
Andy Frasco & The U.N. have released "Birthday Song," a psychedelic birthday anthem that sees Frasco, along with a circus of animals including a monkey drinking whiskey, enjoying a birthday celebration. "Birthday Song" is available now at all DSPs and streaming services and comes from the new album, L'Optimist, arriving via Fun Machine Records/Soundly Music on Friday, August 11. Pre-orders are available now.
DIEGO GONZALEZ RELEASES NEW SINGLE "THANK YOU FOR EVERYTHING"
"Thank You For Everything" follows April's smash "You & I" ft. international phenom Zack Tabudlo. Both tracks embody Diego's heartfelt core message: "When you listen to me, I hope you're reminded of what love looks like," he says. "I want you to feel like love is supposed to be pure and strong. Love is also something you need to be careful with—because it can hurt too. That's what I'm singing about."
REESE LAFLARE DROPS GANGSTA GRILLZ TAPE FT. VINCE STAPLES, ROBB BANK$, TY DOLLA $IGN, BENNY THE BUTCHER, KENNY HOOPLAY AND MORE
Atlanta rapper/producer Reese LAFLARE has dropped a new project Diva Vol.4 Gangsta Grillz Edition. The album features Vince Staples, Ty Dolla $ign, Benny The Butcher, Kenny Hoopla, and more, with production from production from Hitkidd, Sladedamonsta, and Supahmario, as well as words of wisdom from Drake. Along with the album comes a video for "Euphoria" featuring comedian Slink Johnson (Black Jesus, White Man Can't Jump 2023, etc) as LAFLARE's shrink. The Diva series is a celebration of LAFLARE's Diva brand, founded in 2020 and as with all Diva drops, this one also comes with a unique capsule: Diva Vol.4 Summer collection.
British-Chinese LGBTQ+ Pop Artist and RuPaul's Drag Race UK Season 4 Star Le Fil Releases His Latest Single "Splash Zone"
British-Chinese LGBTQ+ multidisciplinary pop artist and performer Le Fil releases his latest single "Splash Zone" today. This new single follows Le Fil's recent appearance on Season 4 of RuPaul's Drag Race UK and his subsequent EP Le Filosophical, that featured his original tracks created each week for the show, a first in the franchise's history, which included tracks like "East To The West" and "Yin To My Yang," which have been delighting audiences on his recent tours and performances for Drag Race UK as well as his solo shows.
Danko Jones new lyric video for "Good Time"
September 15, 2023 will see the undisputed kings of balls-out rock'n'roll release their much-awaited studio album titled Electric Sounds through AFM Records. The band's eleventh offering promises to have the instant sound and feel of a classic. Hands down, with DANKO JONES, you are going to have a good time, rock as hard as you can, always at full volume!
Pop-Soul Singer-Songwriter, JOVIAN Releases New Single, "I'M READY", In Anticipation of Debut Album
"I'M READY" was written by Jovian and Kay'vion and produced by Jovian and Blood Cultures. "I'm Ready" started with the concept, which became a line in the song, "who are you staring at while you undress?" Who are you with when you aren't with me? Who are you texting when you aren't texting me? It's about the fears of taking that first leap when falling in love with someone and the paranoia that comes along with it," mentions Jovian. "Do I secretly not want it to workout? Am I actively doing things to make it not workout? Fear is the mind killer and "I'm Ready" is the sonic representation of that fear. All I've been waiting for is to tell her "I'm Ready" quicker than my brain tells me not to," he adds.
Submission: Single/Video Out Today from Asha
"Hard Shit" is the third single from her album Magic. Video by Zachary Sweet. The track's lyrics can be found in the video's YouTube description.
MJ NEBREDA SHARES NEW SINGLE "RAPIDO" FT. ANA MACHO
JENNIFER ALVARADO RELEASES NEW SINGLE "TRIGGER WARNING"
With gut-wrenching lyrics like you remind me of who I used to be, a jaded picture, distant memory, "Trigger Warning" tells a torrid tale of a love gone wrong.
for Skope: Westwood Rec. – 10-year anniversary album of one of the world's most efficient indie labels (out now)
7 tracks on the album perfectly represent the label's sonic direction with music from The Funk Hunters, Defunk, Moontricks, Stickybuds, K Theory, LIINKS, and more. In addition to this, Westwood is very active and successful at having their music featured in movies, TV shows, video games from Netflix, Disney+, HBO/Max, Hulu, Peacock, Swiffer, Peloton, Riot Games, Universal, CBC, NBC, TNT, TBS, and more, as well as running other ventures, such as booking agency, production/mastering studio, organizing their own events, and so on (you can find more details in the press release). I'm sure there are very few indie labels able to pull that kind of result off continuously, so I'm confident that's a great and engaging story to share. Please find the assets below, and I hope to hear back from you.
New Cyndi Lauper Song in THE HORROR OF DOLORES ROACH | Now Streaming on Prime Video
Cyndi Lauper's new song for the series "Oh, Dolores" is now available on all digital platforms. Co-written by Cyndi Lauper and Ben Hopkins, and produced and performed by Lauper, the song release coincides with the series premiere, in which Lauper plays the character Ruthie.
ELI BROWN DELIVERS A HYPNOTIC TECHNO EXPLOSION WITH NEW SINGLE "LOVE IS FREE"
Following the success of his recent single "Be The One," which became the memento of Calvin Harris' Coachella takeover back in April of this year, Brown is returning with a track that builds on his proficiencies for making rave-ready anthems. Club ready in its constant drums and catchy repeated melodic riffs, "Love Is Free" pulls us into a mesmerizing world of woozy synths and driving beats. Combining a dark intensity and bright clear vocals, the track remains fresh and exciting throughout, constantly building tension to dizzying heights as the production and the hook mirror each other to create an atmosphere of freedom for its listeners. Epitomizing the freedom of the rave scene, "Love is Free" showcases Eli Brown's exciting, fresh approach to techno.
Alan Chang Releases Video for "Natalie Explain"
Alan Chang has released the music video for his latest single, "Natalie Explain." The laid-back track is paired with an intriguing visual that is told from the perspective of a man buying into his imagination, the single recounts the common unrequited love trope from the side of the beloved.
[Single] Krohme ft. T-Mo Goodie (Goodie Mob), Money Mogly & Blind Orbits – GDP prod. by Krohme
A combination of Shoegaze, Jazz, Southern Hip Hop, and Boom-Bap, "GDP" is an eclectic mix of sounds that lays the foundation for a new sub-genre of music crafted by veteran VA-based producer Krohme.
QUIET MAN Release Visualizer For Title Track From The Starving Lesson
QUIET MAN (formerly GOD ROOT) have revealed a visualizer for the title track from their upcoming release The Starving Lesson which is due out via Riff Merchant Records and Astralands on July 14, 2023.
Divine Sweater Share "In the Comedown" Video
NICKY JAM, MALUMA, AND THE CHAINSMOKERS JOIN FORCES IN AN EXPLOSIVE COLLABORATION
"Celular" is a song that blends Latin and urban rhythms, with a special touch by incorporating sounds from regional Mexican music, adding an authentic and fresh twist to the track. The result is a vibrant and infectious musical proposal that is sure to become the next hit on playlists all summer long.
NATH Y GOYO SE JUNTAN EN "LA CULPA"
"La Culpa" juntó a la cantautora, rapera y productora afroamericana, Goyo -quien saltó a la fama al triunfar a nivel internacional con la agrupación ChocQuibTown- con Nath, una de las artistas más prometedoras del momento, reconocida en el género urbano por sus composiciones, voz y colaboraciones con artistas como Omar Montes y Ryan Castro.