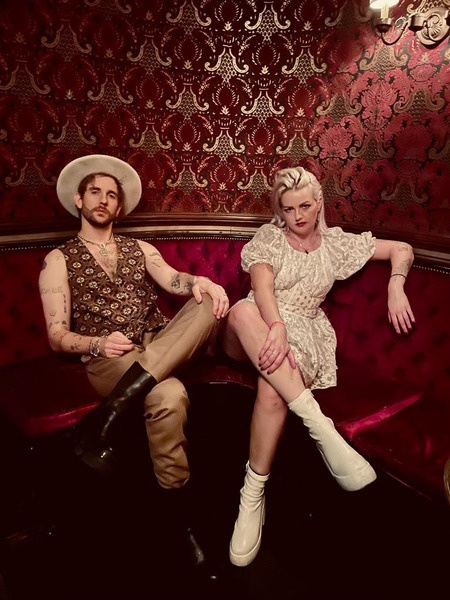 @skopemag news – thursday – june 8, 2023 @ 9 am est
https://www.facebook.com/SkopeMag/
https://twitter.com/skopemag
https://www.youtube.com/@skopetv2
https://www.instagram.com/skopemag/
APP – Apple iTunes –
https://itunes.apple.com/app/id1465224822?mt=8
@skopemag APP – Google / Android –
https://play.google.com/store/apps/details?id=hr.apps.n207414718
Support @skopemag –
https://www.paypal.com/donate/?hosted_button_id=3APKAKT8K6ETW
AS I SPEAK Unveil Emotive Video For "Mend"
The solo hard rock project, AS I SPEAK, delivers a heartfelt and powerful offering in "Mend". The emotive music video portrays a dark and real experience shared by many of losing a loved one. While delving into a difficult topic, AS I SPEAK makes a point to focus on the cathartic nature of music as a means to heal.
"'Mend' is a very personal song for me and came from a place of loss. Losing a family member is always difficult but there's a certain hell in watching someone die slowly from cancer, which is exactly what I did in 2016. I was able to find a sense of closure after finally sitting down and writing about it." – Zach Cunningham
TAR POND pen deal with Prophecy Productions
Swiss doom visionaries TAR POND have signed a multi-album deal with Prophecy Productions. TAR POND will re-issue their debut album "Protocol of Constant Sadness" feat. Celtic Frost legend Martin Ain on bass and their forthcoming sophomore full-length via the label this year.
TAR POND comment: "Hail Satan – we are thrilled to announce that we have sold our souls to Prophecy Productions", guitarist Daniele Merico writes on behalf of the band. "So far, we have been promised a bunch of free stuff from their store and complete artistic freedom in our sonic endeavours. What more can one ask for? We are delighted to join the Prophecy family and hope to contribute something to their already amazing repertoire of electric protocols with the release of our next record. Love, doom and gloom!"
TAR POND have been added to the billing of this year's edition of Prophecy Fest!
Violent J, Ouija Macc and Esham Release New Album '3 Headed Monster Obliteration' via Pyschopathic Records; On Tour NOW!
Violent J (Insane Clown Posse), Ouija Macc and Esham released a new record today titled 3 Headed Monster Obliteration via Pyschopathic Records.
NEWS: Life on Planets is warmly welcomed to Fool's Gold Records to release four track house EP FEELS INTL and accompanying music video
Baltimore born, Los Angeles based prolific multi-instrumentalist, producer and vocalist Life on Planets joins the Fool's Gold family to release his four track house EP, FEELS INTL. The Soul Clap and Seven Davis Jr. collaborator is a welcome addition to the Fool's Gold roster, delivering a soulful take on house music that combines a bedroom feel with club-ready grooves. The FEELS INTL EP showcases Life on Planets' anthemic late night vocals over thumping basslines.
CALLIGRAM Share New Single "Ostranenie"
Dolo Tonight Collaborates With Roe Kapara On New Single "Fake My Death"
Since the release of his 2022 EP, Life's A Party Then You're Dead, Dolo Tonight has been on an exciting upward trajectory. While constantly engaging with his loyal fanbase of 40K followers, he's released a string of singles ("Parking Lot Love Story," "Do Better (feat. MICO)," and most recently "Wakey Wakey"), furthering his penchant for twisting conventions and subverting expectations through his storytelling.
THE GORGE: Everything Is Noise Premieres "Synapse Misfire" Video
St. Louis-based progressive metal outfit THE GORGE is pleased to unveil the video for their latest single, "Synapse Misfire." Now playing at Everything Is Noise, the track comes by way of the band's Mechanical Fiction full-length, set for release via Pelagic Records on July 28th.
THE GORGE Force a "Synapse Misfire" With Rousing, Muscular Prog Metal
Introducing… Saint Harison
The Teeeezy C-directed video invites the viewer into Saint's world and sees him deliver a stripped back, poignant performance. Eagle-eyed fans will notice that Saint has brought his EP artwork to life, as he gets the track title tattooed on his arm. In true Saint style, the music is front and center, and the combined visual elements couple up perfectly as he details a recent heartbreak. 'lost a friend' – Saint's debut EP released last month – is a deeply honest and moving project that sees the rising musician bare all. Home to Saint's captivating vocals and strikingly relatable songwriting, the project is a space to join Saint as he navigates, heartbreak, self-discovery and above all else, all the independence and freedom it brings.
Skope Magazine x FELICITY Returns with New Single
Known for their fun and playful presence on social media, FELICITY broke 100K followers on TikTok earlier this year. With recent collaborations on the app featuring State Champs and Hawthorne Heights, and upcoming collaborations with Magnolia Park, Calling All Captains, and Capstan, "Levitate" is just the beginning of FELICITY's eight explosive new singles coming in the next year.
Groundation Releases New Album "Groundation Meets Brain Damage – Dreaming From An Iron Gate"
"And I don't want just a bare dub album!" That was Groundation founder Harrison Stafford's last directive to Martin Nathan, the French producer and dub artist known as Brain Damage, after entrusting him with the original tapes of one of the most captivating reggae albums of the past few decades: Hebron Gate. To commemorate the milestone 20th anniversary, the leader of the band asked Brain Damage to remix and rework these nine tracks from top to bottom. It's an exciting new way to hear it for longtime fans and a new door opened for those who haven't experienced the power of Hebron's Gate.
MONUMENTS Release Captivating Music Video For New Single "Nefarious", Featuring Animations From "Godslap" Creators
Visionary progressive metal outfit MONUMENTS is thrilled to announce the release of the official music video for their latest single, "Nefarious". Following the single's debut on May 25th, 2023, the band is set to mesmerize fans & new listeners with the visual addition to their powerful single. "Nefarious" is about summoning the bravery to take a stand against powerful and oppressive forces against all odds; to rise up and challenge the status quo and pave the way for a brighter future for generations to come.
OUT NOW: Gabby & The Gondolas love feeling lost on their debut single "Steamed Rice"
"Steamed Rice" is the first single off of Pollyanna, Gabby & The Gondolas' debut LP. Reflecting on his early 20's, Kyle Neveau explains how he spent much of that time feeling lost. From nights out at the bar to endless parking lot cigarettes, Neveau remembers what it was like to be young and directionless. Like all 10 songs on Pollyanna, it was written by Neveau, but producer Brad Lindsay played a big role in giving the song a dynamic, high-energy sound. Says Neveau, "I thought there was something there, but Brad definitely helped take it to a new level. It's a banger now."
SLW cc Watt (Mike Watt + Samuel Locke Ward)
SLW cc Watt is an inspired collaboration between prolific singer/songwriter/illustrator Samuel Locke Ward and SoCal punk legend bassist/singer Mike Watt. After the head-spinning fun of 2021's Let's Build a Logjam and 2022's Real Manic Time, on the new Purple Pie Plow, the duo corral guests throughout the record: saxophonist Bob Bucko Jr, along with drummer Dean Clean, and guitarist Joe Jack Talcum from the sardonic punk band The Dead Milkmen.
Out today Rock n rolls The Tuesday Nighters' Want You to "Scream + Shout"
The Tuesday Nighters are a Canadian rock 'n roll band with a spirit found on the dance floors of downtown Toronto, and a soul in the small towns and countryside of Northern Ontario.
Sometimes when things get you down, you just want to "Scream + Shout" and get back on top. Their motivating new song has no shortage of grit and empowering riffs.
Strange Familia (SLC indie pop) // new single out now
ELIZA GILKYSON premieres her new single "Here Comes the Night" feat. her brother Tony Gilkyson (X, Lone Justice)
Today, two-time folk Grammy nominee Eliza Gilkyson is sharing "Here Comes the Night," the country-flavored second single from her new album, Home, set for released June 16 on her own imprint, Realiza Records. The song features "twang and grit" guitar work courtesy of Eliza's brother, renowned L.A. guitarist Tony Gilkyson (Lone Justice, X and many others).
Hera Lind shares new single "hungry lion" // LISTEN HERE
Today, rising Icelandic singer-songwriter, Hera Lind, shares her stunning secondary single to date "hungry lion". Further to this release, Hera has announced her debut EP to come late September 2023.
TORTURE RACK: Primeval Onslaught LP From Portland Death Metal Henchmen Now Streaming; Album Sees Release Friday Through 20 Buck Spin
Primeval Onslaught, the ruthless third LP from Portland, Oregon-based death metal henchmen TORTURE RACK, is now streaming in its entirety ahead of its official release through 20 Buck Spin this Friday.
Montreal-Based Alt-Rockers Oliver Forest Perfect the Art of Slowing Down In Introspective "No Rush"
Slowing down is an art, and learning to savor the moment and live life on life's terms is a lesson in maturity. Montreal-based alt-rockers Oliver Forest captures this philosophy in their new single "No Rush" – available now – along with its accompanying music video featuring the contemporary dance stylings of Maycie-Ann St-Louis.
Off Judy Find The Sweet Spot Between An Indie Rock Bop And A Punk-Laden Belter With 'Under The Weather'
With their nonchalant and carefree attitude, this raucous Byron Bay-based garage surf rock trio, Off Judy, are releasing their latest single, 'Under The Weather' with its accompanying ​music video on Friday, June 9.
Alt-Rockers LASTIES Debuts New Single "Run Away"
""Run Away' is a battle hymn for the heartbroken, the ones that life just can't seem to love. Lasties get extra catchy with the chorus right from the start, stealing a rock attitude straight from the '80s while approaching modern electro-pop sounds à la The Weeknd, the song is a punch in the stomach on a lyrical and musical level, pointing right at the times where we're caught feeling lonely in a crowded room, hoping to win our fight as the world goes by carefree".
RIVERSEND ANNOUNCE NEW SINGLE/VIDEO
SOUTHAMPTON, NJ – INDIE ROCK BAND, RIVERSEND, are back with their follow-up to "Phantom"; their original take of Pantera's song "REVOLUTION IS MY NAME". Olivia Horovitz (lead vocals), and Zack Miranowic (lead guitarist of Disciples of Verity and Sekond Skyn) are the duo taking a calculated risk with "REVOLUTION IS MY NAME" and breathing into it a whole new emotional spirit. Once again, Riversend is showcasing their musical abilities in a nuance that stands guns loaded, in a scene from a moment of justice being delivered. The music entwines in the haunting apparitional motion only Olivia can convey through her vocals and Zack fulfills with his guitar work and mix.
MARK PRENDERGAST OF KODALINE INTRODUCES HIS NEW PROJECT MAN ALIVE BY SHARING THE DEBUT TRACK 'BE SOMEONE'
'Be Someone' is a tender, star-reaching dose of alt-folk which is closer to the realms of Bon Iver and Phoebe Bridgers than it is to Kodaline. Mark's voice is delicate and precise, whispering around the production like a call from an imaginary friend before gaining strength for its hypnotic hook. Yet within the beauty and spaciousness of the song, his words convey a palpable sense of the inner turmoil that follows the conflict that comes with an unexpected break-up: "Was it a joke when you said you'd be mine?"
ERNIE releases debut single 'Pink Headaches' | out today (June 8th) via GRAVITY RECORDS
Part-time chef, full-time singer-songwriter, ERNIE serves up his own brand of heartfelt indie rock, stirring that hazy, nostalgic feeling in with layers of brooding vocals, fuzzy guitars and warbly synths; whilst touching on themes of adolescence, family, relationships and the trappings of being the "odd one out" in a small northern town.
FEN reveal new single 'Wracked'
FEN release the dark monumental track 'Wracked' as the final single taken from the East Anglian's forthcoming album "Monuments to Absence", which is chalked up for release on July 7, 2023.
Platinum Certifed Duo Smith & Thell drop new Folk-laden single
Following on from the soaring success of their much-loved 2021 sophomore LP 'Pixie's Parasol', which has since gone onto garner more than 250m streams on Spotify alone, Swedish folk-pop duo Smith & Thell now look to preview their next studio album with the riveting new single 'We Were In Love'.