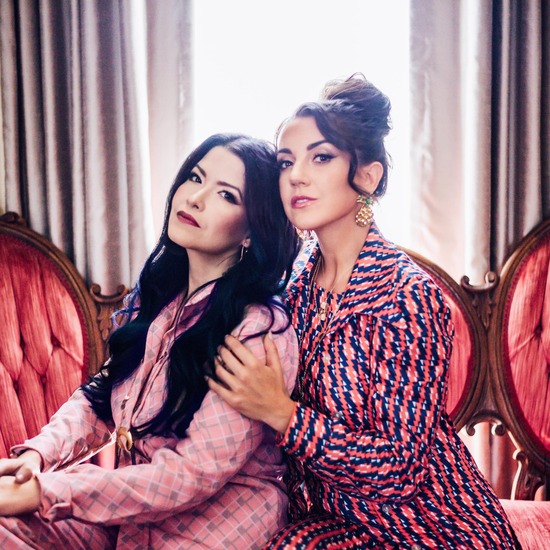 Songs on the radio make partying sound fantastic. Drugs and alcohol get the revelry started and the dancefloor moving. But what happens when the party's over, and your vice of choice is the only friend you have left? What becomes of those whose identities are wrapped up in the very thing that's killing them?
These are hard questions for popular musicians to entertain, but the duo who make up Boys Club for Girls have never hesitated to tackle difficult topics. Powerhouse singer-songwriters Amie Miriello and Vanessa Olivarez were discovered at Arlene's Grocery in Manhattan and Eddie's Attic in Atlanta, respectively, and have since signed major label deals, played historic venues on tour, and appeared on blockbuster TV shows and in touring musicals. "5 O'Clock Shadow," the latest single from their luminous self-titled debut, is a stark look at the price of not only drug and alcohol addiction, but the corrosive effect the depression and anxiety that accompanies substance abuse has on the psyches of those hopelessly trapped in the cycle of dependency. Boys Club for Girls, then, sounds as if Under the Pink-era Tori Amos time-traveled back to '70s Laurel Canyon to partner with Joni Mitchell for a trippier take on the Indigo Girls—and with Fleetwood Mac as their backing band. The album was recorded before, during, and after the pandemic at Blackbird Studio and Dark Horse Institute by producer Tim Craven (Josh Ritter, Brothers Osborne).
If the song sounds bracing, it's nothing compared to the video for "5 O'Clock Shadow." The two "Americana dream-pop" singers pull no punches whatsoever in the stinging clip that accompanies this musical reality check. One at a time, real people approach the camera with simple but powerful confessions scrawled on black chalkboards in searing white letters. These messages are succinct and powerful, words that speak volumes about pain, regret, and longing for a life free from addiction, depression, and crippling anxiety. Appropriately, the "5 O'Clock Shadow" video is raising funds for the Nashville nonprofit Fund Recovery, which exists to break the cycle of mental health issues by filling in the funding gap between someone who is struggling and their recovery.
It's not all tough talk on Boys Club for Girls, though. The debut album shows all sides of the act, including their wit and playfulness. But ultimately this pair's gorgeous voices and passionate deliveries reign—when it's time to get serious, their tight and radiant harmonies hold you spellbound. And as long as they've got you transfixed, Miriello and Olivarez also make sure you go away with a lot to think about.
Follow Boys Club For Girls:
http://boysclubforgirls.com
https://www.facebook.com/boysclubforgirls
https://twitter.com/boysclub4girls
https://www.instagram.com/boysclubforgirls/